Breathe2Relax
By National Center for Telehealth and Technology (U.S. Department of Defense)
Features


Guided relaxation
Education and information

Get the app:


(external link)

(external link)

Clinical review




Read a clinical review of this app.

User reviews

Cost

Free
What does the app do?
This app begins with a video explaining diaphragmatic breathing. When stressed or anxious users can start the breathing tool which has both a visual and audio component guiding them through 16 deep breaths. The app allows users to rate and keep track of their stress levels over time. The app has a 'learn' section which includes information on the biology of stress, the effects of stress on different parts of the body, and diaphragmatic breathing. For a more detailed description of the app, see Google Play(external link) or iTunes(external link) and for a detailed review, see Reviews.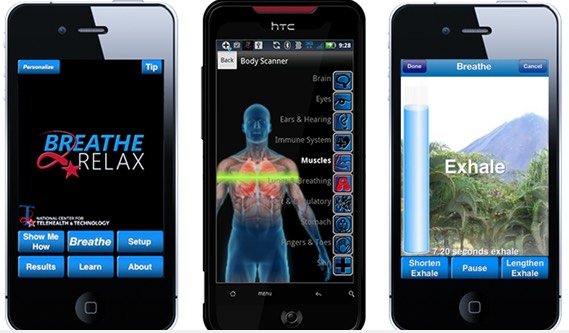 Pros

Cons

✔ App allows customisation such as setting the inhale and exhale length, selecting background music and scenery

✘ Users have to agree to very wordy terms and conditions at start

✘ How to breathe video tutorial can't be stopped or paused

✘ Not visually appealing (few graphics)
Privacy and security
The app is not password protected. Users do not need to log on. No personal information such as name and email address is collected via the app. The app license states that the user is responsible for protecting data captured by the app. Read more about things you can do to improve your safety and security when using apps.
Review details
Date of review: November 2017
Platform reviewed: Android
App version: 2.9
Download size: 27.62 MB
App developer
If you are the developer and would like to provide updated information about this app, please email the app library manager at applibrary@healthify.org.nz.
Other useful resources
This app has been reviewed by other independent websites.
Learn more
Related topics
Consumer guide: how to choose a health app
Clinicians guide: how to choose a health app
Mental health and wellbeing apps overview
Mental health conditions
Depression | Mate pāpouri
How to support a child or teenager with depression
Perinatal depression
Anxiety | Mate māharahara
NZ Health App Library
Disclaimer: Healthify's app library is a free consumer service to help you decide whether a health app would be suitable for you. Our review process is independent. We have no relationship with the app developers or companies and no responsibility for the service they provide. This means that if you have an issue with one of the apps we have reviewed, you will need to contact the app developer or company directly.