BreastFed NZ
By AppThat
Features


Illustrations and pictures to explain concepts
Video stories
Practical tips
Links to other websites for more detailed information

Get app from



(external link)

(external link)




Clinical review





Read a clinical review of this app.

User reviews

Cost

Free
What does the app do?
This app provides information about various aspects of breastfeeding, from how to prepare for breastfeeding during pregnancy, through to the first few days and the early weeks. In provides guidance on common issues such as latching and positioning your baby, hand expressing and breast care. In addition, the app has information on more unusual issues such as breastfeeding twins and early babies (premature), and frequently asked questions around breastfeeding such as medicines, contraception and smoking when breastfeeding. For a more detailed description of the app, see iTunes(external link) and for a detailed review, see Reviews.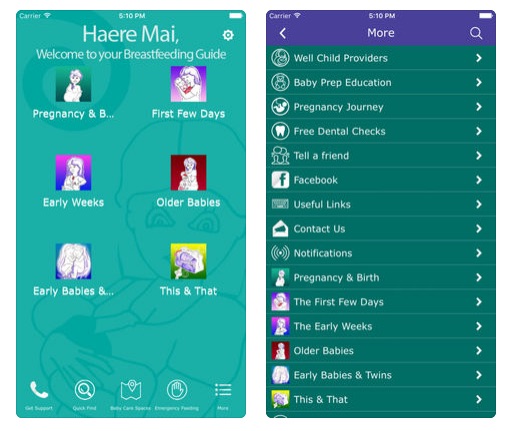 Pros

Cons

✔ The separation of information into 6 chapters makes it easy to find appropriate information.

✔ The app has illustrations and pictures that are helpful in explaining concepts such as latching.

✔ It provides snippets of other Mum's experiences which gives the app a very personal, real-life feel.

✔ Has links to various other websites for more detailed information.

✘ The app is slow with all the information needing to be downloaded as you open each section, rather than it all being there already.

✘ A lot of the information isn't referenced, and there is extensive use of anecdotes which can be misleading.

✘ Some sections remain unwritten and say "more information coming soon, " such as the vaccination section.

✘ No search function, and the "quick find" page doesn't have links to the actual contents.

✘ The tongue tie section was not completely accurate and up to date. It doesn't properly convey that tongue-tie is not responsible for problem breastfeeding for the vast majority of infants with the condition, and that upper and posterior ties should not in general be treated.

✘ While the pictures and diagrams are very nice, videos would be helpful.


Privacy and security
The app has a privacy policy stating that they will not distribute personal information unless to comply with the law, develop their products, or protect their rights. Read more about things you can do to improve your safety and security when using apps.
Review details
November 2016, Version 4.5.4, Android

February 2019
App developer
If you are the developer and would like to provide updated information about this app, please email the app library manager at applibrary@healthify.org.nz.
Learn more
Related topics
Breastfeeding apps
NZ Health App Library
Baby – all topicsNZ Health App Library
Consumer guide: how to choose a health app
Clinicians guide: how to choose a health app
Disclaimer: Healthify's app library is a free consumer service to help you decide whether a health app would be suitable for you. Our review process is independent. We have no relationship with the app developers or companies and no responsibility for the service they provide. This means that if you have an issue with one of the apps we have reviewed, you will need to contact the app developer or company directly.