Back to Action
By NASS (National Ankylosing Spondylitis Society, UK)
Features


Therapeutic exercises
Education and information

Get the app:



(external link)

(external link)




Clinical review






Read a clinical review of this app.

Cost

Free
What does the app do?
This app provides a range of exercises for people with ankylosing spondylitis (AS) such as mobility, cardiovascular, strength, flexibility and breathing exercises. It also contains safety tips and other practical sorts of information such as neutral spine and posture, choosing a gym ball, and a suggested exercise diary. The app provides a brief summary of the suitability of various exercise types for people with AS. For a more detailed description of the app, see App website(external link) or iTunes(external link) and for a detailed review, see Reviews.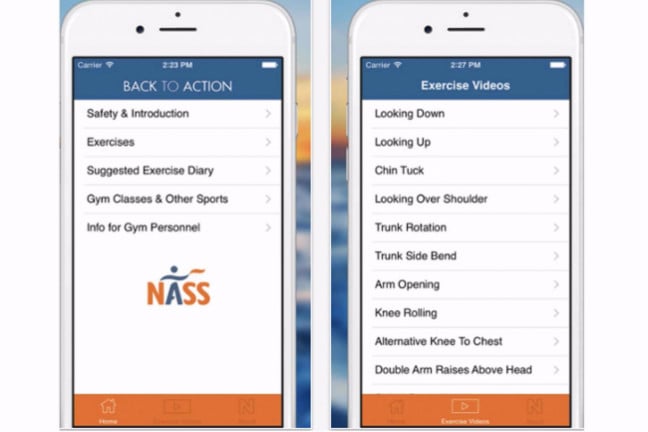 PROS ✔

CONS ✘

Clear instructions, photos and videos
Links to other sites for information
Includes information for both gym instructors and people with ankylosing spondylitis

No diary function or reminders
No links to New Zealand specific web sites
Privacy and security
Read more about things you can do to improve your safety and security when using apps.
Review details
Date of review: August 2016
Platform reviewed: Android
App version: 1.13
Download size: 20 MB
Learn more
Back to action(external link) my health apps
Related topics
Ankylosing spondylitis
NZ Health App Library
Consumer guide: how to choose a health app
Clinicians guide: how to choose a health app
App developer: If you are the developer and would like to provide updated information about this app, please email the app library manager at
hello@healthify.nz
Disclaimer: Healthify's app library is a free consumer service to help you decide whether a health app would be suitable for you. Our review process is independent. We have no relationship with the app developers or companies and no responsibility for the service they provide. This means that if you have an issue with one of the apps we have reviewed, you will need to contact the app developer or company directly.