The Mini-ACE is now the recommended screening tool for cognitive impairment in New Zealand. It replaced the MoCA (Montreal Cognitive Assessment) on 1 September 2020.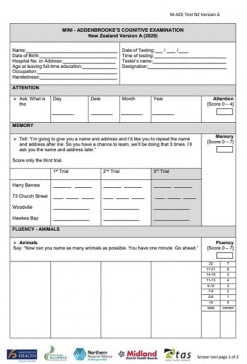 (external link)
There are 3 versions of the Mini-ACE tool:
The different versions help to avoid learning effects in longitudinal monitoring. The only difference is the name and address of the memory item. You should always refer to the administration and scoring guide(external link) when you use the Mini-ACE.