The definition of health equity by the Ministry of Health is as follows:
"In Aotearoa New Zealand, people have differences in health that are not only avoidable but unfair and unjust. Equity recognises different people with different levels of advantage require different approaches and resources to get equitable health outcomes."
The concept acknowledges that not only are differences in health status unfair and unjust, but they are also the result of differential access to the resources necessary for people to lead healthy lives.
Put simply:
equality is treating people the same
equity is treating people fairly.
equity is about being prepared to work differently to help people achieve the same outcomes.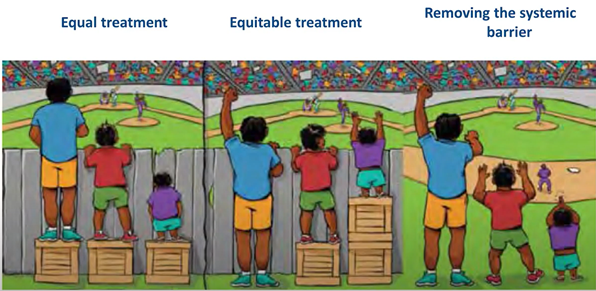 Interaction Institute for Social Change(external link) | Artist: Angus Maguire
In this illustration the first picture shows what happens when everyone gets the same. In the second picture we can see that each person gets the support they need to see the game. The third picture shows everyone being able to watch the game without additional supports because the systemic structures and biases that cause the inequity have been removed.