The medical name for tennis elbow is lateral epicondylitis or epicondylalgia because the pain is felt around the part of the humerus bone called the lateral epicondyle. In most cases, it is not possible (nor necessary) to specify exactly where the pain comes from.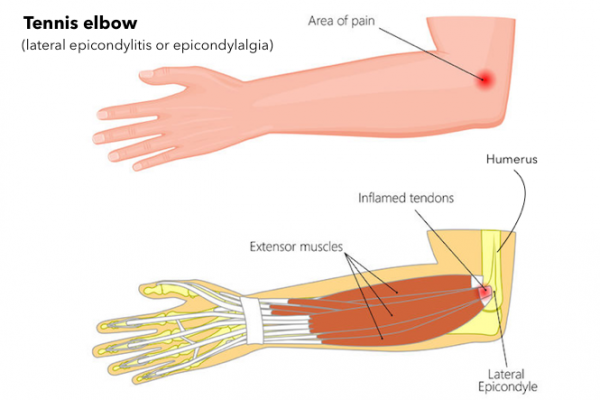 Image credit: 123rf
Many people who get tennis elbow work in a way or play sport that involves moving their arm in a repetitive way. Examples include activities that involve:
Fine, repetitive hand and wrist movements, such as using scissors or typing.
Repeatedly bending the elbow, such as playing the violin, cutting with a knife or using a paintbrush.
Twisting movements such as wringing clothes or using a screwdriver.
Playing racquet sports, such as tennis, badminton or squash (despite being called tennis elbow, racquet sports like tennis are only thought to be the cause in about 5 in 100 cases).
Throwing sports, such as the javelin or discus.
Tennis elbow can also occur:
After a knock or a bang to the elbow.
If you suddenly do a lot of something you're not used to, for example, lots of gardening or playing tennis while on holiday.