Internal haemorrhoids
When haemorrhoids occur inside your rectum they're known as internal haemorrhoids. You may not know you've got them, but symptoms can include:
Seeing small smears of bright red blood (on the toilet paper when you wipe or in the toilet) after you poo.
Feeling like you still need to poo after you've been.
Seeing mucus in your underwear or on the toilet paper after wiping your bottom.
They're not usually painful, even when they bleed, but sometimes a haemorrhoid can drop down through your anus (prolapse). They look like reddened, puffy lumps, and can become painful and get irritated and itchy.
External haemorrhoids
Haemorrhoids you can see or feel around your anus are called external haemorrhoids. They look or feel like firm, grape-like swellings on the outside of your anus.
These are usually more painful as they are more exposed. They can itch and bleed. Sometimes a blood clot (called a thrombus) can form in a haemorrhoid. This can be very painful, and can create a hard, discoloured lump near your anus.
Sometimes when a swollen haemorrhoid settles down, the skin that was stretched over it stays loose. This is called a skin tag and although it shouldn't hurt it can make cleaning your bottom after a bowel motion more difficult. You could try using a moist cloth or non-scented wet wipe.
Haemorrhoids are common – about 50% of adults (1 in 2) have them after 50 years of age.
The image below shows the location of internal and external haemorrhoids. Note that the US spelling is 'hemorrhoids'.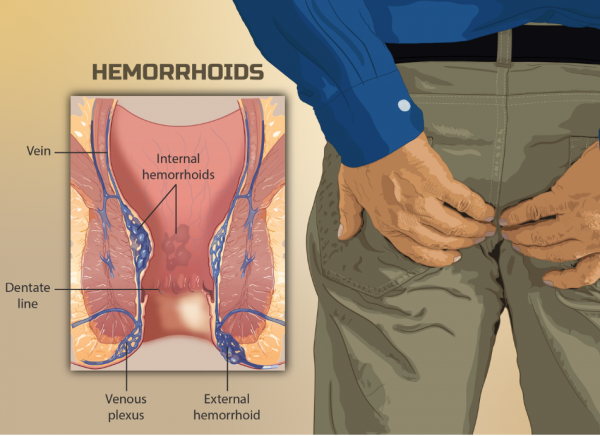 Image credit: myupchar.com(external link) via Wikimedia Commons