The main symptoms of carpal tunnel syndrome are thought to be caused by irritation to the median nerve in the carpal tunnel.

The carpal tunnel is a narrow space inside your wrist that is surrounded by bone and ligament. This tunnel protects the finger tendons, nerves and blood vessels where they pass from your forearm into your hand.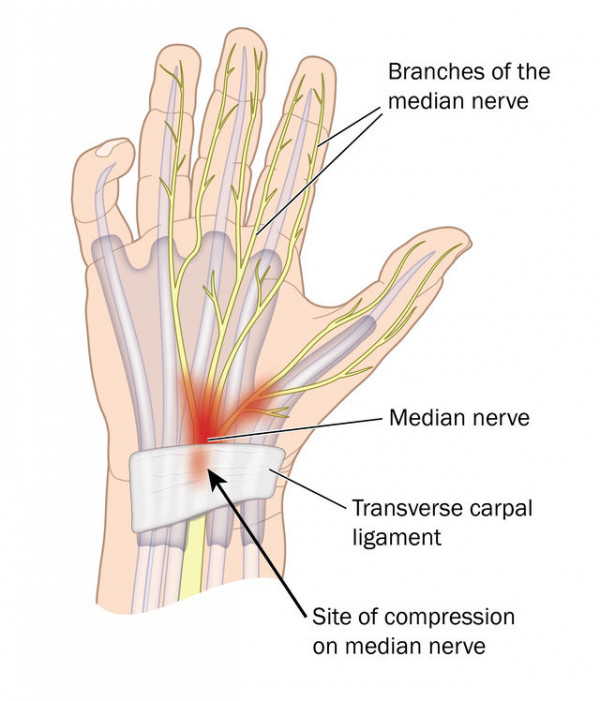 Image credit: 123RF
With carpal tunnel syndrome, the carpal tunnel swells and compresses the median nerve.
This could be caused by thickening of the tendon sheaths, which reduces the amount of space inside the carpal tunnel.
As a result, the median nerve may be compressed, and you then feel pain and tingling, particularly on the thumb side of your palm, your thumb and your fingers.
Possible causes of carpal tunnel syndrome
Pregnancy: Up to about 50% of pregnant women develop hand and finger pain, possibly due to fluid retention in the carpal tunnel.
Injury to your wrist.
Other health conditions, such as diabetes, which can make nerves more sensitive, and rheumatoid arthritis, which can cause inflammation of the tendons in your wrist.
Repetitive work with your hand.
Obesity.
Various types of hormonal conditions.
A family history of carpal tunnel syndrome. This is because your genes influence things like the anatomical shape of your carpal tunnel.