1. Work out a budget and be creative to stick to it
Planning is everything. In preparation for Christmas, sit down and work out exactly what your budget is and think about ways you can stay within it. This applies to presents, food and trips away. Try having a second-hand Christmas where you and your extended whānau and friends get all your presents from the op shop. Or maybe you could upcycle by passing on your own preloved books, toys and clothes to another family. It'll help the environment as well.
2. Take advantage of sales
Keep an eye out for sales and discounts. This can save you quite a bit of money. Remember to stick to a shopping list to avoid impulse buys. If you can, plan ahead and buy Christmas gifts gradually throughout the year. That way you can find special things more cheaply and in your own time rather than rushing at the last minute and adding to the cost – and the stress.
3. Make your own treats, presents and decorations
There's nothing more touching than receiving a home baked gift from somebody. It could be something as simple as Christmas biscuits or homemade spreads, pickles or jams. Knowing someone has put the time and effort into making something is heart-warming. If you're crafty you could knit, paint or build presents.

4. Bring a plate
If you're hosting Christmas lunch or dinner, ask your guests to bring a contribution. If you tell them what you'd like – a vegetable dish, salad, fresh fruit – it will help with the planning and enable you to keep your costs down. It will make them feel good to be able to bring something and save you time in the kitchen. Conversely, if you are going somewhere for Christmas lunch or dinner, take a homemade treat to save money. Here are some ideas for Christmas meals when you need to take a plate(external link)(external link), keep the costs down(external link)(external link), and when you have both health and cost saving(external link)(external link) in mind.
5. Use the kids' artwork for wrapping paper or gifts
If you're wondering what to do with that large pile of kids' artwork, it has a use! Try it as wrapping paper for presents or buy an inexpensive frame and give it as a present. Commercial wrapping paper is very expensive so keep the large pieces to re-use or be creative with wrapping:
Try wrapping a gift inside another gift instead of using paper (eg, a tea towel, scarf or handkerchief).
Get a roll of brown paper for wrapping then get your tamariki to decorate the wrapped present with drawings, ribbon, glitter, coloured string, washi tape, and a homemade label or star. Littlies will enjoy making a potato stamp and decorating your parcel with a bit of paint.
Use a newspaper puzzle page for your friends who enjoy crosswords or sudoku.
Put biscuits or homemade jam into a reused (clean) jar, a harakeke kete, or a pottery bowl from an op shop.
Put your present in a sock and add the other one inside as part of the present.
Make your own fabric drawstring bag, here's

a tutorial.

(external link)

(external link)

Keep old Christmas cards, cut out part of the image, punch a hole in it for string or ribbon and make your own gift tag.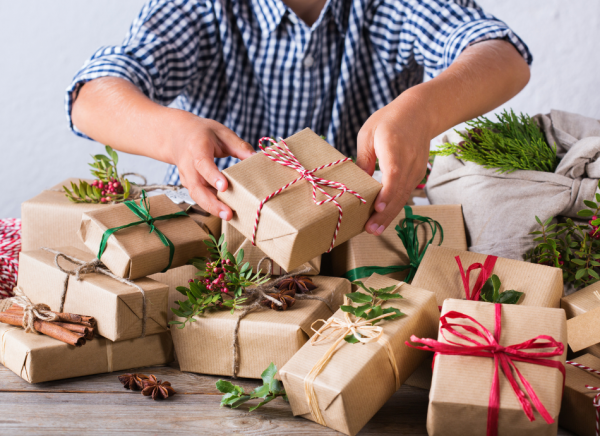 Image credit: Canva
6. De-clutter and sell
Gather up all the toys, clothes and other things around the house you don't use, wear or need anymore and sell them online. Not only will you make some money, it gives you a chance to have a clear out and de-clutter the house.
7. Secret Santa for the extended family
If you're having a large family gathering, do a Secret Santa. This involves each person buying one present for a randomly selected member of the family. You can even put a price limit on the present. It helps keep the cost down and is super fun.
8. Make your own Christmas decorations
Find some old pinecones, bust out the glitter, pens and other craft stuff lying around the house and make your own decorations for the house or the tree. It's fun, cheap, and the kids will love doing it. Here are some ideas to get you started.(external link)(external link)
9. Volunteer your time as a gift
Volunteering your time as a gift is a great way to save money. It could be a "voucher" to wash somebody's car, babysit or help out with something else. Or you could organise an outing or adventure so you get to spend quality time with your loved ones.
10. Put a money limit on presents for your partner
Come to an arrangement with your partner on a price limit for a present for each other. It's amazing what you can buy for under $20, or even $10, and you'll love the challenge.