Whitu – 7 Ways in 7 Days
By University of Auckland
Features


Teaches self-help skills
Tracking
Reminders
Graphs and reporting

Get the app:


(external link)

(external link)





Country of origin

Aotearoa New Zealand

Clinical review



Read a clinical review of this app.

Security and privacy
Does the app:


collect medical information? No
require a login? No
have password protection? No
have a privacy policy? No
require internet access? No

Read more safety tips around health apps.
Cost
Free
Advertisements
This app contains no ads.


What does the app do?
The Whitu app comprises a 7 day plan which has been clinically designed to provide young people, aged 16–25 years, with strategies to reduce their anxiety, improve their well-being and help them to cope with the Covid-19 pandemic.

The 7 modules to support young people to learn and practice evidence-based coping skills include:
Feel
Relax
Be kind to yourself
Be thankful
Connect
Look after your body
Set goals.
The app is specific to a New Zealand audience as it uses local voices and Māori language and symbols, and uses a more holistic approach to health and wellbeing. For a more detailed review, see Reviews.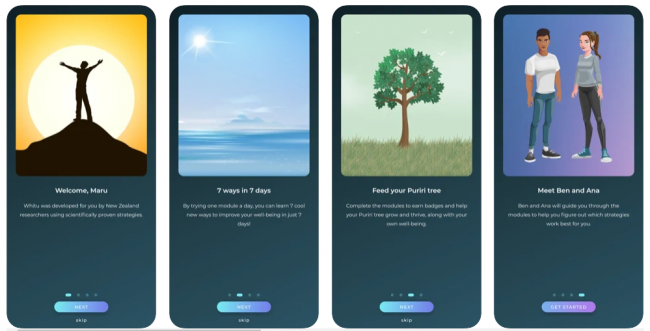 PROS
CONS;

✔ Audio clips are well paced.

✔ Has text transcripts that follow the audio.

✔ Clear and concise explanation of each of the modules.

✔ Gives a great introduction of evidence based psychological tools and treatments in short, easy to understand modules.

✔ Covers main psychotherapy techniques such as
mindfulness, relaxation, kindness and gratitude.

✔ Creative way to show progress using a growing tree, so users can visualise their journey.

✔ Attractive graphics.


✘ If users exit out of a module, they have to restart the module. However users can easily navigate through the audio tracks to manually resume their previous progress.
Review details
Date of review: December 2021
Platform reviewed: Apple iOS
Version: 1.0.1
Related topics
Consumer guide: how to choose a health app
Clinician's guide: how to choose a health app
Mental health and wellbeing apps (for teenagers and young people)
NZ Health App Library
References
Well-being app to support young people during the COVID-19 pandemic: randomised controlled trial

(external link)

BMJ Open, 2021
Coping Skills Mobile App to Support the Emotional Well-Being of Young People During the COVID-19 Pandemic: Protocol for a Mixed Methods Study

(external link)

JMIR Res Protoc 2020;9(10):e23716
Pilot study of a well-being app to support New Zealand young people during the COVID-19 pandemic

(external link)

Internet Interventions 26 (2021) 100464
App developer: If you are the developer and would like to provide updated information about this app, please email the app library manager at
hello@healthify.nz
Disclaimer: Healthify's app library is a free consumer service to help you decide whether a health app would be suitable for you. Our review process is independent. We have no relationship with the app developers or companies and no responsibility for the service they provide. This means that if you have an issue with one of the apps we have reviewed, you will need to contact the app developer or company directly.