Wellmind
By Dudley and Walsell Mental Health Partnership NHS Trust and Blue Step Solutions
Features


Self-help tools
Mood tracking
Education and information

Clinical review





Cost
Free
What does the app do?
This app is designed to provide advice, tips and tools to improve mental wellbeing. Users select whether they want help with stress, anxiety, or depression and the app provides information about each condition, how it affects them physically, and 5 self-help tips. Users can keep track of their daily moods, things they look forward to and are grateful for, achievements. The app also provides a basic snake game for distraction, and 3 relaxation audio tracks.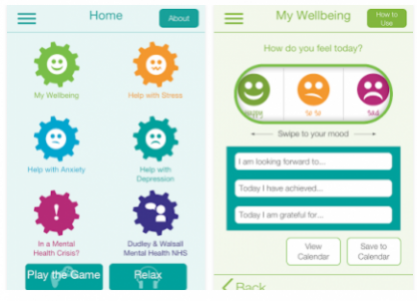 PROS

CONS

✔ Developed by the National Health Service, UK

✔ Easy to use


✘ Only a few self-help techniques provided

✘ Education component is basic although links to other websites are provided

✘ PDF files of self-help guides would not download

✘ Support organisations listed are UK-based
Privacy and security
The app does not appear to have a privacy policy so it is unclear what happens to data collected via the app such as mood ratings, information about things the user looks forward to, what he or she is grateful for and achievements. The app is not password protected and does not require a user account to be set up. Read more about things you can do to improve your safety and security when using apps.
Review details
Date of review: November 2017
Platform reviewed: Android
App version: 1.0
Download size: 23.47 MB
Reviews
Clinical review

Reviewer: Dr Lynda Gee, General Practitioner, Auckland
Date of review: October 2017
Comments: The app provides simple explanations for stress, anxiety and depression. It provides personalised recording of wellbeing in calendar format. It has 3 audio relaxation techniques. The app is not extensive but is simple to use and easy to understand. It is good visually - colourful and pictorial. I really liked the simplicity. It is easy for teens to use without being overwhelming or providing too much information or complexity. It has a snake game which is fun but unrelated.
Safety concerns: The 'Help in a Crisis' section has organisation phone numbers that are UK-based.
New Zealand relevance: As above - the phone numbers provided are not for New Zealand organisations.
---
User review

Reviewer: Maureen, Bay of Plenty
Date of review: November 2016
Comments: "I found this app to be average. I liked the relaxation audio section, but found the 'Help' for each segment unhelpful, for example if I was 'depressed', then I am unlikely to be in a state of mind to "think back to times when I have solved similar problems in your life and use the same approach". Leading on from that the same approach may also not be applicable to the current situation."
App developer: If you are the developer and would like to provide updated information about this app, please email the app library manager at
hello@healthify.nz
Disclaimer: Healthify's app library is a free consumer service to help you decide whether a health app would be suitable for you. Our review process is independent. We have no relationship with the app developers or companies and no responsibility for the service they provide. This means that if you have an issue with one of the apps we have reviewed, you will need to contact the app developer or company directly.