Note: This app appears to no longer be available in the New Zealand app stores.
Type 2 Diabetes Xplained
By Medicine X
Features


Education and information

4 language options – English,

te reo Māori, Samoan, Tongan

Get the app:



(external link)

Country of origin

New Zealand

Clinical review







Read a clinical review of this app.

User review

(0 reviews)


Have you used this app? Tell us what you think of it:



Security and privacy
Does the app:


collect medical information? No
require a login? No
have password protection? No
have a privacy policy? No
require internet access? Yes

Read more

safety tips around health apps
Cost
Free
What does the app do?
This online programme provides easy-to-understand information about type 2 diabetes. It has 4 language options – English, te reo Māori, Samoan and Tongan.

Using comic-style, colourful graphics and interactive videos, you follow the story of Hare on his journey as he is diagnosed with type 2 diabetes. He learns about the different tests to diagnose type 2 diabetes, medicines to treat the condition and the importance of lifestyle changes like diet and exercise. He also learns about the causes and the symptoms of type 2 diabetes as well as what he needs to do to achieve good diabetes control.
There are multiple chapters in the story. You can also jump back to previous chapters in the story.
For a detailed review, see Reviews.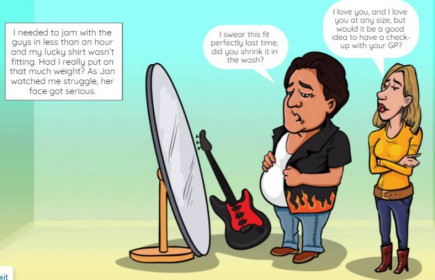 PROS
CONS

✔ The graphics and story are fun and entertaining.


✔ The videos and conversations make it more interesting to follow the story.


✔ There is an option to mute the sound.


✔ You can zoom in if you find the small font hard to read.

✔ You can click on the links that show pop-up information explaining complex terms, medical conditions and symptoms to help improve your understanding.

✔ There are 4 language options – English, Māori, Samoan and Tongan.

✔ It has had input from New Zealand health professionals.

✘ Text can be lengthy and hard to read due to the small font.

✘ The story is quite long – 30 screens of information (plus extra pages for complex terms).
Privacy and security
The online programme doesn't collect any personal data. Read more about things you can do to improve your safety and security when using apps.
Review details
Date of review: October 2020
Platform reviewed: Windows PC
App developer
If you are the developer and would like to provide updated information about this app, please email the app library manager at applibrary@healthify.org.nz.
References
The following references relate to articles about apps for diabetes management.
Rhyner D, Loher H, Dehais J, et al. Carbohydrate Estimation by a Mobile Phone-Based System Versus Self-Estimations of Individuals With Type 1 Diabetes Mellitus: A Comparative Study.

(external link)

J Med Internet Res. 2016 May 11;18(5):e101.

Deacon AJ, Edirippulige S. Using mobile technology to motivate adolescents with type 1 diabetes mellitus: A systematic review of recent literature.

(external link)

J Telemed Telecare. 2015 Dec;21(8):431-8.
Arnhold M, Quade M, Kirch W. Mobile applications for diabetics: a systematic review and expert-based usability evaluation considering the special requirements of diabetes patients age 50 years or older.

(external link)

J Med Internet Res. 2014 Apr 9;16(4).
Disclaimer: Healthify's app library is a free consumer service to help you decide whether a health app would be suitable for you. Our review process is independent. We have no relationship with the app developers or companies and no responsibility for the service they provide. This means that if you have an issue with one of the apps we have reviewed, you will need to contact the app developer or company directly.