The Village
By Starship Foundation
Features


Positive thought of the day
Access to tips for 'supporting your buddy' and 'if you're down'
Reminders – daily reminders can be set

Get the app:









Country of origin

Aotearoa New Zealand

Clinical review




Read a clinical review of this app.

User reviews




Have you used this app? Tell us what you think of it.

Rate this app

Security and privacy
Does the app:


collect medical information? No
require a login? Yes
have password protection? Yes
have a privacy policy? Yes
require internet access? Yes

Read more safety tips around health apps.
Cost
Free
Advertisements
This app contains no ads.


What does the app do?
The Village is a social networking app that allows the user to select up to 5 'buddies' who they can regularly connect with to check-in on their mental health and well-being. Messages have 5 pre-written questions, so it's easy to start a conversation. The app provides a platform for users to 'check-in' with each other on a frequent basis. It also provides links to other relevant mental health services in NZ.
For the complete app description, go to the app website(external link), Google Play(external link), App Store(external link) or, for a more detailed review, see Reviews.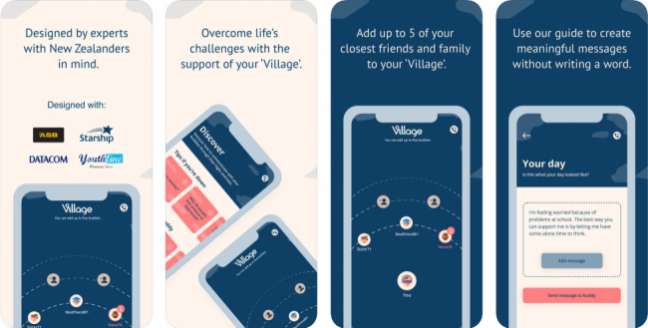 PROS
CONS

✔ App is easy to understand and navigate.

✔ Access to links to relevant NZ support services.

✔ Provides ways for "buddies" to support each other in a non-confrontational manner.

✔ Content is factual and relevant.

✔ If the app picks up worrying messages, the user is offered the option to speak with someone.

✔ Co-designed with young people and whānau.


✘ Can only select 5 buddies – limits numbers.

✘ Can limit the number of messages you receive from a buddy (eg, only receive 4 messages per week from ….) – buddy may feel excluded if messages are limited? This does not seem to be compulsory though.
Review details
Date of review: October 2022
Platform reviewed: Apple
Version: 1.0.4
App developer
If you are the developer and would like to provide updated information about this app, please email the app library manager at applibrary@healthify.org.nz.
Did you find this information useful?
Disclaimer: Healthify's app library is a free consumer service to help you decide whether a health app would be suitable for you. Our review process is independent. We have no relationship with the app developers or companies and no responsibility for the service they provide. This means that if you have an issue with one of the apps we have reviewed, you will need to contact the app developer or company directly.