Tapuaki
By the National Institute for Health Innovation Information Technology
Features


Education and information
Translations in 8 languages
Pregnancy mother and baby weekly milestones and health tips
Parenting tips
Services directory
New Zealand app

Clinical review





Cost
Free
What does the app do?
The app provides useful information about antenatal care, self care and care of the infant, including mother and baby weekly milestones, midwife locations, and word lists to help understand the terminology around pregnancy. The app is divided into 6 sections:
About me (user creates a personal profile)
Translations (lists of commonly used words relating to pregnancy in 8 languages)
Pregnancy (mother and baby weekly milestones and health tips)
Parenting (tips around various aspects of parenting such as breastfeeding, safe sleeping around baby, immunisations, etc)
Services (directory of services and contact links to various organisations to assist during and after pregnancy)
Word List (glossary that provides an easy to understand explanation of complex medical terms).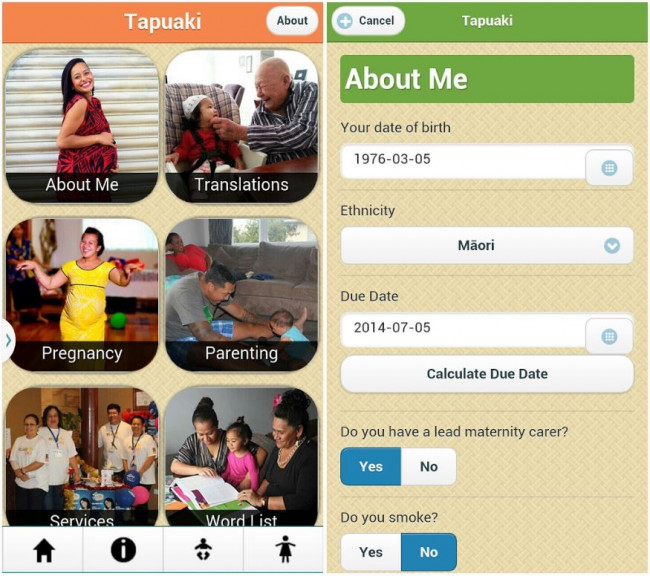 PROS

PROS

✔ The app is visually appealing with colourful, vibrant, culturally-appropriate images.

✔ Has useful links to services and the page giving translations to some common words may be helpful.

✘ The Bounty advertising, that takes up quite a bit of page space, is a bit off putting.

✘ The Tapuaki website has a translation feature in which all the information on the webpage can be translated to a pacific language of the users choice (8 language options). This feature would be useful in the app as well. Currently the translation feature in the app is a word list or dictionary of commonly used terms, and not a complete translation of all the pages.

✘ In some sections the Tapuaki app lacks more comprehensive, detailed information that is found on the Tapuaki website such as what is a lead maternity carer, nausea during pregnancy, vaccinations during pregnancy. In such instances it would be useful to the user if the app linked to the website.
Privacy and security
The privacy policy does not mention about security of the data saved in the app but clearly mentions that app can access accounts on device, contacts, location, network, microphone and camera. Read more about things you can do to improve your safety and security when using apps.
Review details
Date of review: December 2016
Platform reviewed: Android
App version: 2.03
Download size: 11.38 MB
Reviews
Clinical review


Reviewer: Jeremy Tuohy, Researcher & Clinician, University of Auckland
Date of review: May 2017
Comment: The app is designed for Pacifica, especially Tongan women who have found out they are pregnant.
It has very basic information about who to contact and some basic information about general health issues in pregnancy such as smoking and nutrition. The app gives almost no information about any medical issues but does have a glossary for pregnancy related words and there is a page giving translations for some common words. However the website is in English and does not have a language selection option for the whole app.
Safety concerns: Yes - the app appears to be sponsored by a private company, 'Bounty'. The information in the app is very basic and the links to other organisations will require constant supervision and updating. There is a disclaimer stating that the app is not meant to replace medical care.
New Zealand relevance: The app is relevant to Pacifica users and in view of the very low rates of uptake of healthcare resources in this population the app is at least aimed at a group that really need help, but it is of limited value to anyone outside of Auckland. I tried to see if they app would give me non-Auckland contacts if I said I lived in another city but it just kept freezing on me and I gave up after about 10 times.
Comment: I accessed the app through a late model iPhone, and the pane kept freezing and wouldn't scroll especially if I opened the word list or translation section. This was very frustrating.
---
User review


Reviewer: Bronwyn Drysdale, Taumarunui
Comment: I liked that the app has multiple language options. However, the 'About me' section asks for personal information and may stop women engaging further with the app. As a midwife trying to review the material in this app from a midwifery lens and then promote the app is difficult because I can't show women info without filling in about me section. I am also a health promoter for Maternal Green Prescription in Hutt Valley and Wairarapa, and we have a lot of Pasifika women referred to our programme.
App developer: If you are the developer and would like to provide updated information about this app, please email the app library manager at
hello@healthify.nz
Disclaimer: Healthify's app library is a free consumer service to help you decide whether a health app would be suitable for you. Our review process is independent. We have no relationship with the app developers or companies and no responsibility for the service they provide. This means that if you have an issue with one of the apps we have reviewed, you will need to contact the app developer or company directly.