St John NZ CPR & AED app
By St John New Zealand
Features


Education and information
Guided CPR
Guided use of an AED

Get the app from


(external link)

(external link)

Country of origin

New Zealand

User reviews

Cost
Free
What does the app do?
This app provides simple, easy-to follow steps on how to perform CPR in adults, children and infants. It uses clear, well designed illustrations to guide the user through the CPR steps, and step-by-step illustrations on how to use an AED (automated external defibrillator). For a more detailed description of the app, see iTunes(external link).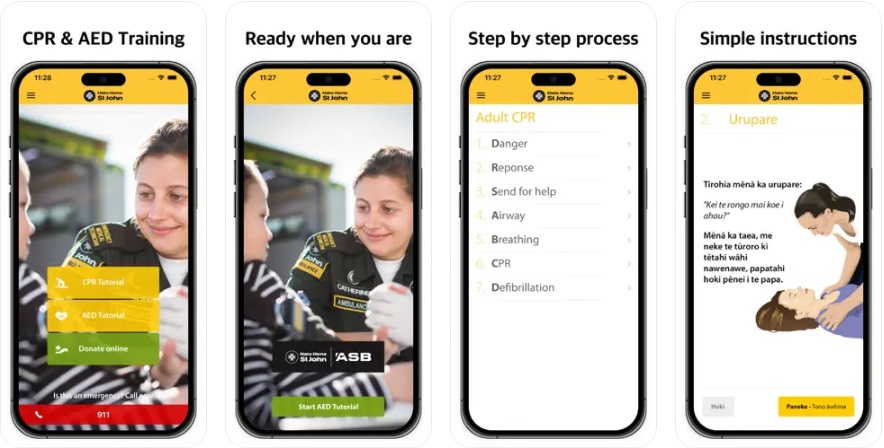 Summary
Once downloaded, no internet access is necessary for tutorials.
Very clear, easy to follow illustrations.
The side swipe option makes navigation through the steps easy.
The app has a "CPR Timing Assist" feature, allowing users to hear beeps or feel vibrations to help with consistent chest compression timing.
Has the option of 3 different language settings — English, Maori, Chinese.
Read more about the St John CPR Mobile App(external link)
Privacy and security
Your information is only recorded when making a donation which is completed in a secure browser linked from the app. Read more about things you can do to improve your safety and security when using apps.
Review details
Date of review: November 2016
Platform reviewed: Android
App version: 1.9
Download size: 45 MB
App developer
If you are the developer and would like to provide updated information about this app, please email the app library manager at applibrary@healthify.org.nz.
Disclaimer: Healthify's app library is a free consumer service to help you decide whether a health app would be suitable for you. Our review process is independent. We have no relationship with the app developers or companies and no responsibility for the service they provide. This means that if you have an issue with one of the apps we have reviewed, you will need to contact the app developer or company directly.