SPARX
By University of Auckland
Features


Aimed at youth 12–19 years
Interactive games
Education about depression, teaches practical mood management skills
Includes free phone or text support number

Get the app from



Country of origin

New Zealand

Clinical review







Read a clinical review of this app.

User reviews

(0 reviews)


Have you used this app? Tell us what you think of it


Rate this app

Security and privacy
Does the app:


collect medical information? Yes
require a login? Yes
have password protection? Yes
have a privacy policy? Yes
require internet access? No

Read more

safety tips around health apps

.

Cost
Free
What is SPARX?
SPARX is a computer program that helps young people with mild to moderate depression, anxiety or stress. It is based on a type of 'talking therapy' called cognitive behavioural therapy (CBT).
At the start of SPARX you meet the Guide, who explains what SPARX is and how it could help you.
You then customise your avatar and journey to the 7 provinces to complete quests that restore the world's balance and defeat the pesky negative thoughts, called Gnats.
Along the way, you will meet different characters, solve puzzles and complete mini games.
As you complete each quest, the Guide will explain how you can use your new skills to feel better, solve problems and enjoy life in the real world. Each level takes about half an hour.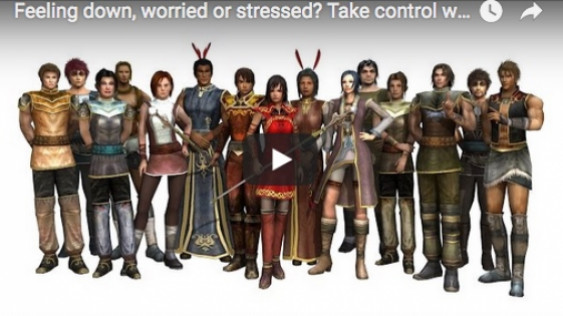 For the complete app description, go to the app website(external link) and for a detailed review, see Reviews.


PROS
CONS

✔ Offers CBT skills including breathing and relaxation, activity scheduling, problem solving, cognitive skills and social skills.

✔ Offers a range of good cognitive skills.

✔ Engaging/fun interface with games alongside educational content.

✔ Support available through online chat and associated help line.

✔ Can use on phone or on computer.

✔ All instructions and educational aspects are vocalised, meaning instructions don't need to be read.

✔ Culturally appropriate for NZ audience.

✔ Allows users to repeat sessions to review content.

✔ Great repetition of skills throughout whole programme that builds more sophisticated use of CBT skills over time.

✔ Overlaps between gaming and educational aspects of the app increases over the course of the programme so that the game is eventually described explicitly as a metaphor for overcoming depression and the game becomes a way to practice skill use.

✘ Some skills such as activity planning and structured problem solving are taught only superficially with little interactive facility to practice skills and homework tasks only loosely defined with no commitment from user required and little follow up on homework tasks.

✘ No interaction with programme between "sessions".

✘ Homework notebook has been removed in this version meaning less opportunity for users to practice skills during and between sessions.

✘ Large files can take time to download on PC version.

✘ Difficult to access content of sessions without working through entire session including gaming aspects or if content is skipped accidentally.

✘ Gaming aspects of sessions may appear out of date to users used to more modern games.

✘ Gaming aspects of sessions may be frustrating and stressful to users not well versed in gaming but wanting to access mental health content.

✘ It takes time to access CBT content initially during the course, which may reduce relevance for some and may reduce follow through of subsequent sessions.

✘ Having your character "die" due to reducing health status may be demoralising or frustrating for some users, especially those without good gaming skills.

✘ Programme glitches include, missed section on structured problem solving, programme returning to prior session, incorrect headings at times.





Review details
March 2022, version 1.0.0, Android
August 2018, Android
App developer
If you are the developer and would like to provide updated information about this app, please email the app library manager at applibrary@healthify.org.nz.
Learn more
SPARX information for parents(external link)
SPARX information for Whanau(external link) Maori(external link)
SPARX parent and family handbook(external link)
References
Merry SN, Stasiak K, Shepherd M, et al. The effectiveness of SPARX, a computerised self help intervention for adolescents seeking help for depression – randomised controlled non-inferiority trial(external link) BMJ, 2012;344:e2598.
Disclaimer: Healthify's app library is a free consumer service to help you decide whether a health app would be suitable for you. Our review process is independent. We have no relationship with the app developers or companies and no responsibility for the service they provide. This means that if you have an issue with one of the apps we have reviewed, you will need to contact the app developer or company directly.