Solid Starts
By

SolidStarts LLC

Features


Ability to search food database
Wide range of foods on database
Nutrition tips
Suggestions on how to serve the food or different stages
Recipes
Video examples of babies trying the specific foods

Get the app:






Country of origin
USA
Clinical review




Read a clinical review of this app.

Security and privacy
Does the app:


collect medical information? No
require a login? Yes
have password protection? password required for initial sign up but not when reopening app
have a privacy policy? Yes
require internet access? Yes

Read more safety tips around health apps.
Cost
Free; option to subscribe $US15.99/year
Advertisements
No ads.


What does the app do?
Solid Starts is a food database app which provides users with guidance on what foods to introduce to babies and when. The app provides a database of foods and each food is classified based on allergen status and nutrition rating. Additionally the app provides detailed answers to frequently asked nutrition question and tips regarding the food, images and description on how to serve the food to different age babies and children, video demonstrations of the children eating the food, recipes and flavour pairing. Purchased subscription allows for recording food, ability to record reactions and notes, save favourite foods and track milestones.
For the complete app description, go to the app website(external link), Google Play(external link), App Store(external link) or, for a more detailed review, see Reviews.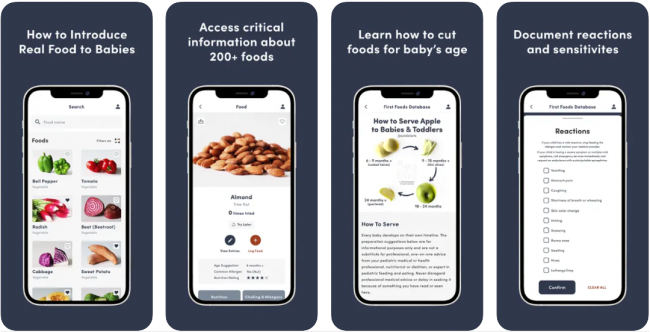 PROS
CONS

✔ Sufficient food database.

✔ Evidence-based nutrition tips and information.

✔ Practical ideas on how to make and serve foods for different ages and stages.

✘ The app provides information on "baby-led weaning" which should be interpreted with caution.

✘ Ability to log food only available with subscription.
Review details
Date of review: March 2023
Platform reviewed: Android
Version: 2.1.2
Related topics
New Zealand-based apps
Apps about children's nutrition
Baby – starting solids
Baby – all topics
Baby – feeding and nutrition
Nutrition apps
Helping children develop a positive relationship with food
Consumer guide: how to choose a health app
Clinicians guide: how to choose a health app
App developer: If you are the developer and would like to provide updated information about this app, please email the app library manager at
hello@healthify.nz
Disclaimer: Healthify's app library is a free consumer service to help you decide whether a health app would be suitable for you. Our review process is independent. We have no relationship with the app developers or companies and no responsibility for the service they provide. This means that if you have an issue with one of the apps we have reviewed, you will need to contact the app developer or company directly.