Self Heal
By University of Oxford IT Services
Features


Education and information
Activities

Get the app from

Clinical review





Read a clinical review of this app.

Security and privacy
Does the app:


collect medical information? Unknown
require a login? No
have password protection? No
have a privacy policy? No (there is a link but it is broken)
require internet access? No

Read more safety tips around health apps
Cost
Free
What does the app do?
This app gives users activity ideas to help them resist the urge to self-harm. For each activity, users have the option to choose between now, at the time of urge or longer term. Users can access support from websites, reading material or motivational images.
For a more detailed review, see Reviews.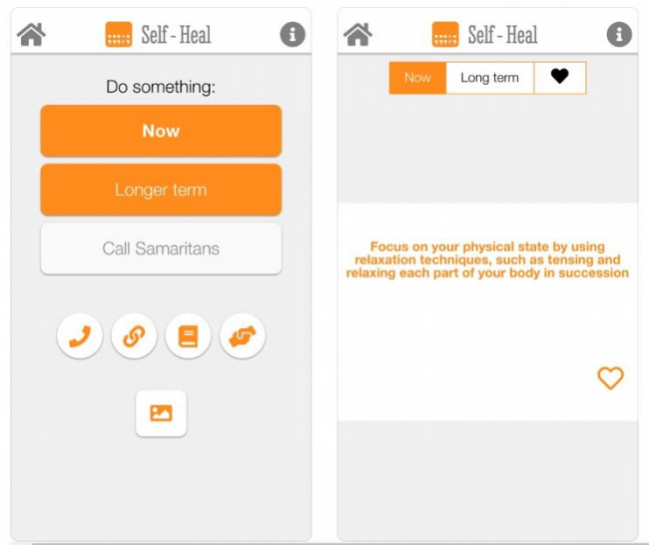 PROS
CONS

✔ Developed in conjunction with mental health professionals at Oxford University.

✔ Randomly recommends an activity to complete if you have the urge to self-harm. These are described as distraction tasks. The tasks are divided into now (eg, "squeeze ice really hard") and long term (eg, "go to a blog website and write an online journal"). Some are external links such as YouTube videos (the links work).

✔ Can 'favourite' specific tasks.

✔ Contains information about self-harm and some advice but it is very limited.

✔ Large gallery of motivational, animal, landscape and other images intended to boost the user's mood.


✘ The interface is dated and at the time of writing it hadn't been updated for 2 years.

✘ The external links in the info section are not clickable. It also only shows you the domain name of the URLs, with the specific page (the so-called 'path') being replaced with "…" eg, "http://ww.rcpsych.ac.uk/..." This makes it difficult to find the recommended page.

✘ Most of the tools in the external links should ideally be integrated into the app.
Review details
Date of review: September 2019
Platform reviewed: Android
Version: 1.1.0
Download size: 66 MB
Updated on: 2/06/2017
Learn more
Related topics
Self-harm
Consumer guide: how to choose a health app
Clinicians guide: how to choose a health app
Self-harm prevention apps
NZ Health App Library
References
Vieira AM, Lewis SP. Mobile Apps for Self-Injury: A Content Analysis.

(external link)

Cyberpsychol Behav Soc Netw. 2018 May;21(5):333-337.
App developer: If you are the developer and would like to provide updated information about this app, please email the app library manager at
hello@healthify.nz
Disclaimer: Healthify's app library is a free consumer service to help you decide whether a health app would be suitable for you. Our review process is independent. We have no relationship with the app developers or companies and no responsibility for the service they provide. This means that if you have an issue with one of the apps we have reviewed, you will need to contact the app developer or company directly.