Rise up + Recover
By Recovery Warriors
Features


Logging (meals, emotions and behaviours)
Reminders
Self-monitoring homework
Education and information
Motivational quotes

Get the app from


Clinical review





Read a clinical review of this app.

Cost
Free
What does the app do?
This app is designed for people dealing with eating disorders. It's main feature is the mood and meal logs. When users enter the program, they are directed to "check in" and rate their daily mood from a customizable list. Then, they can log a meal in a detailed log (e.g., time, food consumed, location, mood, and problematic eating behaviors within the meal context). Once a meal is logged, it can be exported as a PDF version via email. Users are rewarded with an inspirational message for logging a meal (e.g., every human being is the author of his own health and disease). The program also offers tips related to the recovery process and effort, divided into various themes (e.g., body image, journal activities, mindfulness, relationship).
For the complete app description, go to the app website(external link) and for a detailed review, see Reviews.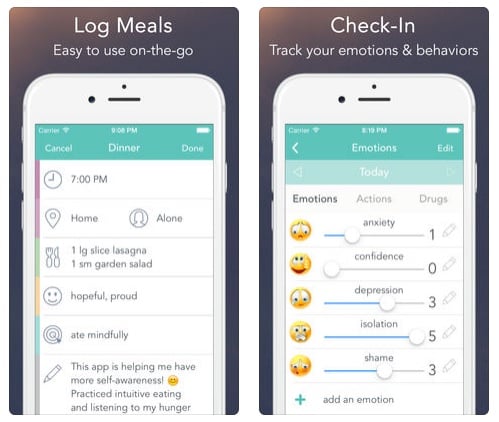 PROS
CONS

✔ Supports users autonomy around establishing regular eating patterns.

✔ No calorie counting function. No focus on weight recording.

✔ User friendly.

✔ Exporting log summary gives a clear association between food and thoughts and feelings.

✔ Helps clinicians from a multidisciplinary team collect data (dietitians/psychologists/therapists).


✘ Does not have a function to enable users to plan meals and snacks ahead of time (although users can set up alarm reminders to log meals/snacks).

✘ Does not enable users to log photos of meals/snacks.

✘ Users are not able to record hunger/fullness.

✘ The 'find support' function is not applicable to New Zealand users.
Privacy and security
A pin number is required to protect access to the app. The app website has a privacy policy(external link) outlining the type of information collected and that information may be shared with third parties. Read more: tips to improve your safety and security around health apps.
Review details
Date of review: August 2018
Platform reviewed: Android
Version: 1.2
Download size: 24 MB
Updated on: August 2015
Learn more
This app has been reviewed by other independent websites.
Rise Up + Recover(external link) MindTools
Related topics
Consumer guide: how to choose a health app
Eating disorder apps
NZ Health App Library
Eating disorders
References
Lindgreen P, Lomborg K, Clausen L. Patient Experiences Using a Self-Monitoring App in Eating Disorder Treatment: Qualitative Study.

(external link)

JMIR Mhealth Uhealth. 2018 Jun 22;6(6).
Fairburn CG, Rothwell ER. Apps and eating disorders: A systematic clinical appraisal.

(external link)

Int J Eat Disord. 2015 Nov;48(7):1038-46.
App developer: If you are the developer and would like to provide updated information about this app, please email the app library manager at
hello@healthify.nz
Disclaimer: Healthify's app library is a free consumer service to help you decide whether a health app would be suitable for you. Our review process is independent. We have no relationship with the app developers or companies and no responsibility for the service they provide. This means that if you have an issue with one of the apps we have reviewed, you will need to contact the app developer or company directly.