ReSound Tinnitus Relief
By Global Tinnitus Management
Features


Graphs and reporting
Purchase of additional Relief Premium plan allows goal setting, personalised weekly plans and insights.

Get the app:






Country of origin
Denmark
Clinical review




Read a clinical review of this app.

Security and privacy
Does the app:


collect medical information? No
require a login? No
have password protection? No
have a privacy policy? Yes
require internet access? No

Read more safety tips around health apps.
Cost
Free
Advertisements
This app contains no ads.
What does the app do?
The ReSound Tinnitus Relief app provides a range of relaxation sounds to assist with tinnitus desensitisation, relaxation strategies, information about tinnitus, and a management plan to help keep on track.
For the complete app description, go to the app website(external link), Google Play(external link), App Store(external link) or, for a more detailed review, see Reviews.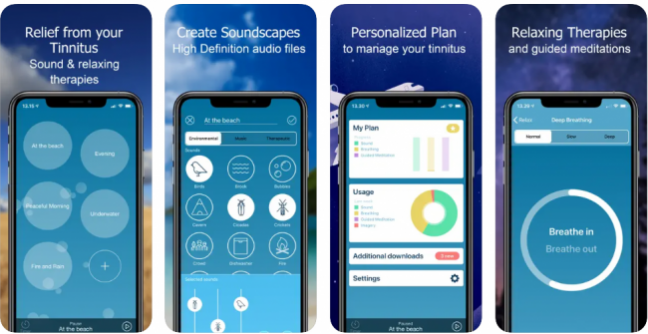 PROS
CONS

✔ Easy to use interface.

✔ Ability to blend various sounds at different levels.

✔ Range of relaxation strategies and lifestyle ideas to cater for personal preferences.

✘ Understanding the neural mechanisms of tinnitus generation and perception aid in its reduction. The app has good information about the range of potential tinnitus triggers, and some available treatments, but not about the underlying neural and perceptual mechanisms that lead to tinnitus causing distress and suffering in some people, and not in others.
Review details
Date of review: March 2023
Platform reviewed: Apple
Version: 5.2.6 (726)
Related topics
New Zealand-based apps
Consumer guide: how to choose a health app
Clinicians guide: how to choose a health app
Tinnitus apps
Tinnitus
App developer: If you are the developer and would like to provide updated information about this app, please email the app library manager at
hello@healthify.nz
Disclaimer: Healthify's app library is a free consumer service to help you decide whether a health app would be suitable for you. Our review process is independent. We have no relationship with the app developers or companies and no responsibility for the service they provide. This means that if you have an issue with one of the apps we have reviewed, you will need to contact the app developer or company directly.