Recovery Record
By Recovery Record
Features


Logging (meals, emotions, behaviours)
Reminders
Self-monitoring
Education and information
Motivational quotes

Get the app from


Clinical review





Read a clinical review of this app.

Cost
Free
What does the app do?
This app is designed for people dealing with eating disorders. It allows users to record their meals, thoughts, feelings and behaviours. Users can set customised goals and track their progress towards achieving these. It provides 'rewards' for goals achieved. Users also have the option to share their information with their treatment providers. Clinicians can download a matching app.
For the complete app description, go to the app website(external link) and for a detailed review, see Reviews.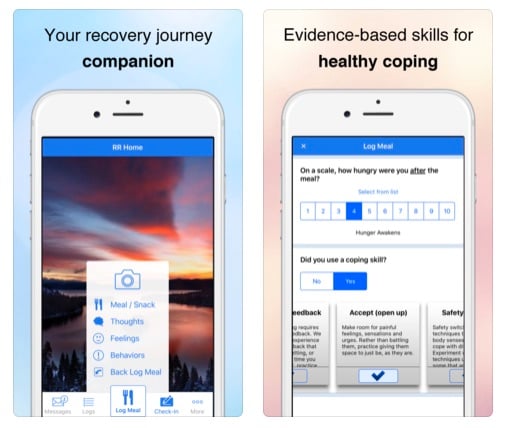 PROS
CONS

✔ Supports users autonomy around establishing regular eating patterns.

✔ Designed specifically for eating disorder recovery. Focuses on regular eating patterns rather than recording information around calorie intake and weight.

✔ Clinicians can correspond directly to users via the app, enabling them to provide reassurance and validation.

✔ Enables users to record the most information about a meal, food eaten, thoughts, emotions, time, hunger fullness, disordered behaviours and symptoms and environment.

✔ Allows users to set goals related to food ahead of time.


✘ Check that your health professional feels comfortable receiving your eating data in real time.

✘ For clinicians to receive data from a user they need to have and create their own recovery record account using the specific clinicians recovery app.

✘ Clinicians are required to pay a fee to enable collection of data from their users.

✘ The app is created with a North American user group focus. The find support function is not applicable to New Zealand users.
Privacy and security
A pin number is required to protect access to the app. The app website has a privacy policy(external link) outlining the type of information collected and that information may be shared with third parties. Read more: tips to improve your safety and security around health apps.
Review details
Date of review: August 2018
Platform reviewed: Android
Version: 5.4.0
Updated on: August 2018
Learn more
This app has been reviewed by other independent websites.
Recovery Record(external link) myhealthapps.net
Related topics
Consumer guide: how to choose a health app
Eating disorder apps
NZ Health App Library
Eating disorders
References
Lindgreen P, Lomborg K, Clausen L. Patient Experiences Using a Self-Monitoring App in Eating Disorder Treatment: Qualitative Study.

(external link)

JMIR Mhealth Uhealth. 2018 Jun 22;6(6).
Fairburn CG, Rothwell ER. Apps and eating disorders: A systematic clinical appraisal.

(external link)

Int J Eat Disord. 2015 Nov;48(7):1038-46.
App developer: If you are the developer and would like to provide updated information about this app, please email the app library manager at
hello@healthify.nz
Disclaimer: Healthify's app library is a free consumer service to help you decide whether a health app would be suitable for you. Our review process is independent. We have no relationship with the app developers or companies and no responsibility for the service they provide. This means that if you have an issue with one of the apps we have reviewed, you will need to contact the app developer or company directly.