PTSD Coach
By US Department of Veteran Affairs
Features


Self-help tools

Symptom tracking

Education and information

Self-assessment

Get the app from


Country of origin
United States
Clinical review




Read a clinical review of this app.

Security and privacy
Does the app:


collect medical information? Yes
require a login? No
have password protection? No
have a privacy policy?

Yes
require internet access? No

Read more

safety tips around health apps

.

Cost
Free
What does the app do?
The app has 4 sections in which users can learn about PTSD, find ways to manage it, track their symptoms and get further support. In the 'manage' section users are provided with a variety of tools and tips for coping with PTSD such a guided relaxation audio tracks and imagery exercises. To track symptoms, users complete a 20-question assessment on a regular basis. The app allows users to view their symptom scores in a graph, export their score, and set up reminders to take the assessment. For a more detailed description of the app, see Google Play(external link) or iTunes(external link) and for a detailed review, see Reviews.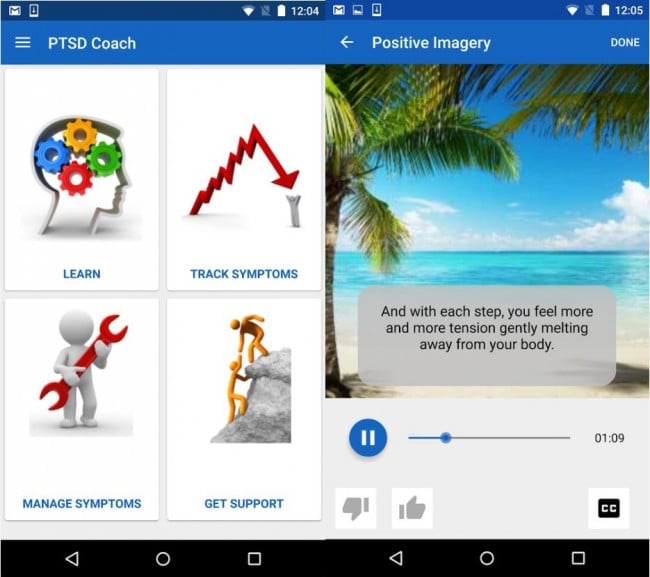 PROS ✔
CONS ✘

✔ Is a useful self-help tool that allows users to independently monitor a range of symptoms commonly experienced by individuals exposed to trauma.

✔ Has numerous, easy-to-read, commonly asked questions and answers about PTSD.

✔ Provides users with multiple tools to manage symptoms, most of which are included in evidence based treatments for PTSD including Cognitive Behavioural Therapy and Acceptance and Commitment Therapy.

✔ Includes form to design own safety plan for times of crisis.

✔ App is easy to navigate and tools are easy to find. There is an option to make a list of favourite tools.

✔ Tools can be personalised with the addition of the user's own photos and music.

✘ Contact information for crisis resources and professional care is US-based and not applicable to New Zealand users.
Review details
April 2022; Version 3.4.2; Android
November 2017; Version: 3.1; Android
Other useful resources
This app has been reviewed by other independent websites.
Learn more
U.S Department of Veteran Affairs website(external link)
Coulon SM, Monroe CM, West DS. A systematic, multi-domain review of mobile smartphone apps for evidence-based stress management.(external link) Am J Prev Med. 2016 Jul;51(1):95-105.
Related resources
This app has been reviewed by other independent websites:
This US-based app has been adapted by other countries:
Related topics
Post-traumatic stress disorder (PTSD)
NZ Health App Library
Consumer guide: how to choose a health app
Clinicians guide: how to choose a health app
References
The following references relate to articles about apps for Posttraumatic stress disorder (PTSD).
Possemato K, Kuhn E, Johnson EM, et al. Development and refinement of a clinician intervention to facilitate primary care patient use of the PTSD Coach app

(external link)

. Transl Behav Med. 2016 Feb 22.
Miller CJ, McInnes DK, Stolzmann K, et al. Interest in use of technology for healthcare among veterans receiving treatment for mental health.

(external link)

Telemed J E Health. 2016 Oct;22(10):847-854. Epub 2016 Mar 16.
Price M, Kuhn E, Hoffman JE, Ruzek J, et al. Comparison of the PTSD Checklist (PCL) administered via a mobile device relative to a paper form

(external link)

J Trauma Stress. 2015 Oct;28(5):480-3.
App developer: If you are the developer and would like to provide updated information about this app, please email the app library manager at
hello@healthify.nz
Disclaimer: Healthify's app library is a free consumer service to help you decide whether a health app would be suitable for you. Our review process is independent. We have no relationship with the app developers or companies and no responsibility for the service they provide. This means that if you have an issue with one of the apps we have reviewed, you will need to contact the app developer or company directly.