PainScale
By Boston Scientific Inc
Features


Pain log
Symptom tracking
Education and information
Graphs and reports

Clinical review





Cost
Free
What does the app do?
This app allows you to keep track of your pain by recording its location, intensity, description, triggers, duration, effect and treatment. Once you have logged enough entries, the 'Insights' feature allows you to view trends like, your pain over time, treatments that helped your pain most, your most used treatments, how pain affects your activity or sleep, etc. The app has a variety of educational and informative resources for a numerous pain conditions such as chronic pain, lower back pain, neck pain, fibromyalgia, migraines, arthritis, nerve pain, and more. Examples of resources include exercise videos, pain management tips and infographics.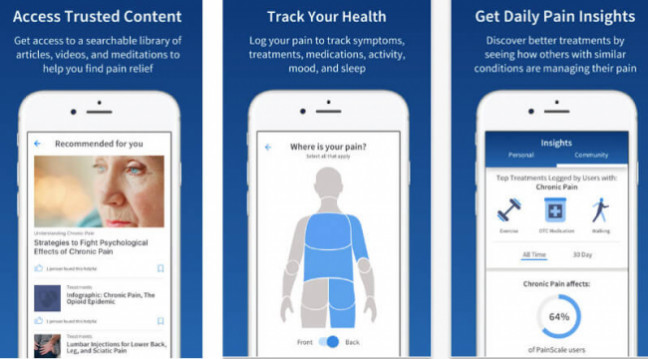 PROS
CONS

✔ Logging is fast and easy, and easy to read reports can be generated to pdf and then emailed or printed for sharing with your doctor.

✔ Short articles are available within the app and are tailored to the information you supply when you register. Many, but not all of the articles are of good quality. Basic guided exercise and meditation is also provided.

✔ There is some input into the app from doctors.

✘ Pain locations are limited to broad areas such as the lower back. Other than writing in the notes there is no option for being more specific.

✘ You cannot back date a pain episode.

✘ Cannot easily log the effectiveness of any treatment without writing in the notes section, making it difficult to easily see what works and what doesn't.

✘ Some of the pain articles are quite limited, and the information is sourced from websites rather than medical journal articles. Good information regarding chronic pain is notably absent (e.g. catastrophising, fear avoidance behaviour, coping strategies, pacing, graded exercise therapy, central nervous system sensitisation, and general information about the biology of pain) Some articles have incomplete information (e.g. the article about the types of chronic pain misses two forms: inflammatory and dysfunctional pain which is pain when there isn't any injury). Other articles are incorrect, misleading or have limited or no evidence to support them. There is some information on alternative care, but it is incomplete (e.g. excludes hypnosis).

✘ No reminders to use any skills learned (meditation, exercise etc)
Privacy and security
The app is not password protected. Users can choose to set up an account via their email address. The app's privacy policy appears to be generic for Boston Scientific Inc. It outlines the sorts of information that is collected about the user but states that while personal data is not sold or leased to a third party, there are circumstances where personal data may be shared without additional noticed to the user. View the privacy policy(external link). Read more about things you can do to improve your safety and security when using apps.
Review details
Date of review: November 2017
Platform reviewed: Android
Version: 1.3.9
Learn more
Rahman QA, Janmohamed T, Pirbaglou M, et al. Patterns of User Engagement With the Mobile App, Manage My Pain: Results of a Data Mining Investigation.

(external link)

JMIR Mhealth Uhealth. 2017 Jul 12;5(7):e96.
Chaudhry BM. No gain without pain: using pain tracking mobile Apps

(external link)

. Mhealth. 2016 Jul 4;2:27.

Lalloo C, Jibb LA, Rivera J, et al.

"There's a Pain App for That": Review of Patient-targeted Smartphone Applications for Pain Management.

(external link)

Clin J Pain. 2015 Jun;31(6):557-63.
Wallace LS, Dhingra LK. A systematic review of smartphone applications for chronic pain available for download in the United States.

(external link)

J Opioid Manag. 2014 Jan-Feb;10(1):63-8.
Reviews
Clinical review

Reviewer: Jeremy Steinberg, GP, FRNZCGP
Date of review: November 2017
Comments: This app is most helpful for logging chronic pain at the end of each day, allowing the person and their doctor to see pain trends, triggers, relieving factors and other information which could potentially help with treatment or for self-care. It would be best used before and after a change in treatment to track effectiveness. It is probably not so useful for helping your doctor with diagnosis. I would probably avoid the articles about chronic pain due to many incomplete and misleading articles.
Safety concerns: None.
New Zealand relevance: Some medications mentioned are not available in NZ. Osteopathy has a different meaning in NZ versus the US, where it is practiced by mainstream medically trained doctors called a doctor of osteopathy. In NZ osteopaths are non-medically trained alternative practitioners. Physiatry (a doctor of rehabilitation and physical medicine) is not a specialty in NZ. Their treatments are available in NZ but covered by other medical professionals here. We have musculoskeletal specialists which are less common outside of Australasia. US pain support groups are not relevant to NZ.
App developer: If you are the developer and would like to provide updated information about this app, please email the app library manager at
hello@healthify.nz
Disclaimer: Healthify's app library is a free consumer service to help you decide whether a health app would be suitable for you. Our review process is independent. We have no relationship with the app developers or companies and no responsibility for the service they provide. This means that if you have an issue with one of the apps we have reviewed, you will need to contact the app developer or company directly.