Note: This app appears to no longer be available in the New Zealand app stores.
CatchMyPain - Pain Diary
By Sanovation
Features


Pain log
Trigger recording
Graphs and reports
Reports for sharing
Online community
Requires upgrade for more features

Clinical review






Read a clinical review of this app.

User reviews

(0 reviews)


Have you used this app? Tell us what you think of it


Rate this app

Cost
Free (paid upgrade)



Learn more about

app charges
What does the app do?
This app allows you to keep track of your pain by recording its location, intensity, description, duration and effect. Once you have at least 3 pain entries, the app generates a pain chart (after a couple of hours), where you can see the course of your pain. You can record events or circumstances that increase or ease your pain. The app has an online community for support, advice and to share experiences. The paid upgrade version of the app promises tracking of fatigue and stress, and a weather feature, which based on the time of your entry and current location, the weather conditions are integrated in your pain entry. The app collects anonymized data from entries for research. For a more detailed description of the app, see Reviews.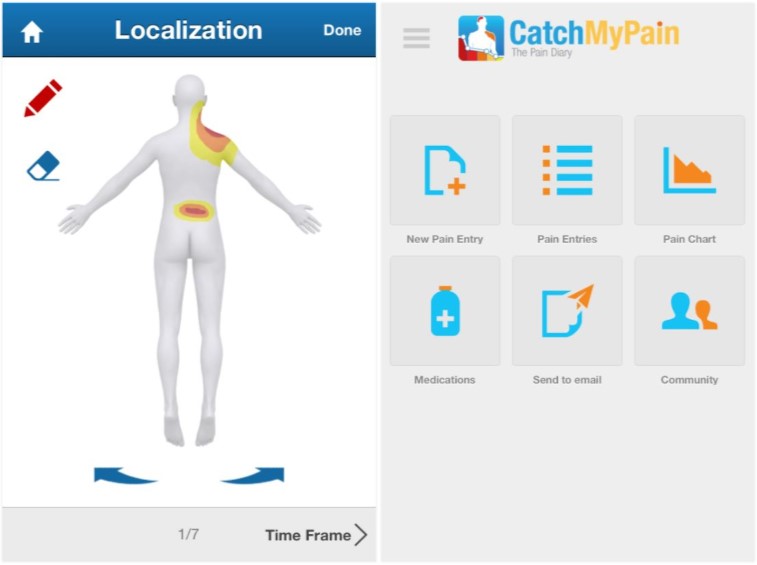 PROS
CONS

✔ Using a body figure or avatar, users can easily map their pain location and intensity.

✔ Logging is fairly rapid although drawing the pain locations can take some time and previous entries are not saved to speed this process up.

✔ Reports can be generated and are given as an expirable web link.

✔ Users can record their pain as it happens or hold an entry to complete at a later stage.

✘ Does not include information on pain and self-management options.

✘ Comments and advice posted in the online community section do not appear to be moderated.

✘ Pain questions are quite limited (e.g. no questions about triggers or exacerbating and relieving factors).

✘ Cannot easily log the effectiveness of any treatment without writing in the notes section, making it difficult to easily see what works and what doesn't.

✘ Report summaries are not as useful as the other reviewed apps and are not easily downloadable as pdf (have to print web page as a pdf).

✘ Some diagnostic tests and medication options discussed in the forum may not be relevant to a NZ audience.
Privacy and security
The app has a privacy policy which is displayed when first loading the app, which states that aggregate data (data that cannot identify individuals) will be shared with others such as health professionals, researchers and companies manufacturing medical products. Reports can be generated and are given as an expirable web link which means that the user can limit how many days the report will be viewable. Read more about things you can do to improve your safety and security when using apps.
Review details
Date of review: November 2017
Platform reviewed: Android
Version: 3.5.5
Learn more
Rahman QA, Janmohamed T, Pirbaglou M, et al. Patterns of User Engagement With the Mobile App, Manage My Pain: Results of a Data Mining Investigation.(external link) JMIR Mhealth Uhealth. 2017 Jul 12;5(7):e96.
Chaudhry BM. No gain without pain: using pain tracking mobile Apps(external link). Mhealth. 2016 Jul 4;2:27.
Lalloo C, Jibb LA, Rivera J, et al. "There's a Pain App for That": Review of Patient-targeted Smartphone Applications for Pain Management.(external link) Clin J Pain. 2015 Jun;31(6):557-63.
Wallace LS, Dhingra LK. A systematic review of smartphone applications for chronic pain available for download in the United States.(external link) J Opioid Manag. 2014 Jan-Feb;10(1):63-8.
Disclaimer: Healthify's app library is a free consumer service to help you decide whether a health app would be suitable for you. Our review process is independent. We have no relationship with the app developers or companies and no responsibility for the service they provide. This means that if you have an issue with one of the apps we have reviewed, you will need to contact the app developer or company directly.