Paced Breathing
By Trex LLC
Features


Custom breathing profiles
Adjustable session times
Audio, visual and haptic (vibrate) cues

Get the app:


(external link)

Country of origin
USA
Clinical review




Read a clinical review of this app.

Security and privacy
Does the app:


collect medical information? No
require a login? No
have password protection? No
have a privacy policy? No
require internet access? No

Read more safety tips around health apps.
Cost
Free
Advertisements
This app contains adverts and in-app purchases.


What does the app do?
Paced Breathing allows the user to focus on timed deep breathing exercises. Users simply set their inhale, exhale, and hold times to whatever they want, and the app will give cues for when to start inhaling and exhaling. There is a simple graphic wave length guiding your breathing, or you can simply follow the different sounds. You can set up different profiles to use for different activities or for different family/whānau members. There is an option to have a voice instructing you to breathe in or out, and also to ramp up or change the rate of your breathing over the set time of your breathing exercises. This should not be used by someone who is acutely unwell or short of breath without instruction.
For the complete app description, go to Google Play(external link) or, for a more detailed review, see Reviews.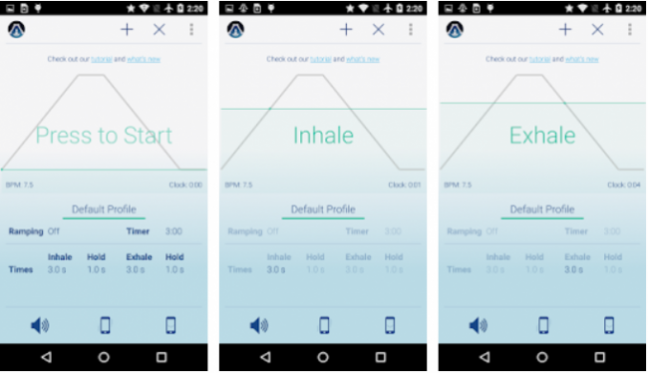 PROS
CONS

✔ Simple design, easy to use.

✔ Allows users to create a profile to save their settings. i.e. meditation breath times vs relaxation.

✔ Session can be timed and have a change to the rate using the 'ramp function'.


✘ No diary on how you managed.

✘ No feedback if you are actually breathing to the rate set.

✘ Ads unless you purchase an in app purchase.
Review details
Date of review: January 2022
Platform reviewed: Android
Version: 2.1
Related topics
Breathing rate
Breathing apps
Consumer guide: how to choose a health app
Clinicians guide: how to choose a health app
NZ Health App Library
App developer: If you are the developer and would like to provide updated information about this app, please email the app library manager at
hello@healthify.nz
Disclaimer: Healthify's app library is a free consumer service to help you decide whether a health app would be suitable for you. Our review process is independent. We have no relationship with the app developers or companies and no responsibility for the service they provide. This means that if you have an issue with one of the apps we have reviewed, you will need to contact the app developer or company directly.