Noom Coach
By Noom Inc.
Features


Coaching team messaging
Support group
Recipe database
Barcode scanner and food database
Customised daily lessons and exercises available in written or podcast format
Saved reading materials covering topics such as portion size, understanding the colour system, breaking down your calorie goal
Pedometer
Memes to provide humour
Map on course progression
Visual weight tracker with ability to share progress.

Get the app from


Clinical reviews





Read a clinical review of this app.

Security and privacy
Does the app:


collect medical information? Yes
require a login? Yes
have password protection? Can be password protected
have a privacy policy? Yes
require internet access? Yes

Read more safety tips around health apps

Cost

$1 for 14 days, then $70/month. Premium option available and includes customised exercise plan and customised meal plan.
(See Noon Subscription Pricing(external link))

Learn more about app charges
What does the app do?
Noom is a tailored and personalised weight management programme. It offers a food and weight tracker, goal setting, coaching and education on behaviour change to achieve weight and lifestyle goals. Based on an extensive assessment Noom calculates a recommended daily calorie intake based on the user's current weight and their goal weight. In addition it creates a customised learning journey. Users receive instant feedback on calories consumed and the remaining calories left for the day. Noom provides motivational tips and reminders. Premium provides personalised meal and exercise plans. For a more detailed description of the app, see Google Play(external link) or iTunes(external link) and for a detailed review, see Reviews.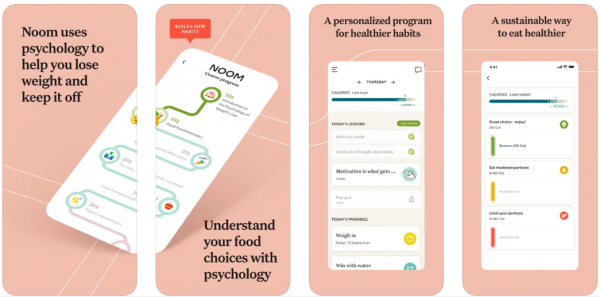 PROS

CONS

✔ Uses an extensive assessment of goals and current behaviours which ensures the advice is specific to the user and motivation is tailored.

✔ Simple and user-friendly with some effective graphics to see your weight management progress against your goals.

✔ Has a colour system to help users identify least to most calorie dense foods.

✔ The group forum is structured, moderated, respectful, and supportive.

✔ Weekly check-ins by a coach support users to be accountable to the app and their goal.

✔ Daily reading/listening materials and activities are motivating and informative.

✘ Noom uses an extensive assessment of goals and current behaviours which includes education snippets. This can make the initial engagement with the app time consuming (~30minutes).

✘ After the initial assessment it becomes clear Noom is a paid subscription with only a 14 day low cost trial.

✘ The amount of content provided by Noom for education and learning can be overwhelming and some users may find it hard to maintain the reading requirements.



Review details
Date of review: April 2023
Platform reviewed: Android
App version: 11.7.1 (paid version)
Related topics
NZ Health App Library
Consumer guide: how to choose a health app
Clinicians guide: how to choose a health app
References
The following references relate to articles about apps for weight loss.
Coughlin SS, Whitehead M, Sheats JQ. Smartphone Applications for Promoting Healthy Diet and Nutrition

(external link)

: A Literature Review. Jacobs J Food Nutr. 2015;2(3):021
Chen J, Cade JE, Allman-Farinelli M. The Most Popular Smartphone Apps for Weight Loss: A Quality Assessment

(external link)

. JMIR Mhealth Uhealth. 2015 Dec 16;3(4):e104. doi: 10.2196/mhealth.4334.
Flores Mateo G, Granado-Font E, Ferré-Grau C, Montaña-Carreras X. Mobile Phone Apps to Promote Weight Loss and Increase Physical Activity: A Systematic Review and Meta-Analysis

(external link)

. J Med Internet Res. 2015 Nov 10;17(11):e253. doi: 10.2196/jmir.4836.
App developer: If you are the developer and would like to provide updated information about this app, please email the app library manager at
hello@healthify.nz
Disclaimer: Healthify's app library is a free consumer service to help you decide whether a health app would be suitable for you. Our review process is independent. We have no relationship with the app developers or companies and no responsibility for the service they provide. This means that if you have an issue with one of the apps we have reviewed, you will need to contact the app developer or company directly.