Natural Cycles
By NaturalCycles Nordic AB
Features


Diary/Tracking (temperature and menstrual cycle)
Reminders (notifications from the app around fertile window)

Get the app:


Country of origin
Sweden
Clinical review




Read a clinical review of this app.

Security and privacy
Does the app:


collect medical information? Yes
require a login? Yes
have password protection? Yes
have a privacy policy? Yes
require internet access? Yes

Read more safety tips around health apps.
Cost
Annual subscription $89.99 including thermometer. Monthly subscription $9.99/month. Option to purchase thermometer for $14.50.
What does the app do?
Natural Cycles app is marketed as a contraceptive and fertility app, allowing you to use basal body temperature measurements to identify fertile days of your cycle. This information can then be used as birth control (contraceptive) for preventing pregnancy or planning conception. You track your cycle by taking basal body temperature readings ideally 5 or more days per week. The app algorithm uses this information to predict a fertile window for contraceptive or pregnancy planning purposes.
For the complete app description, go to the app website(external link), Google Play(external link), App Store(external link) or, for a more detailed review, see Reviews.

Note: The reliability and accuracy of fertility awareness (also known as natural family planning) as a method to plan or prevent pregnancy is highly variable and depends on a number of factors such as being taught the method correctly and understanding how to use the method. Read more about fertility awareness.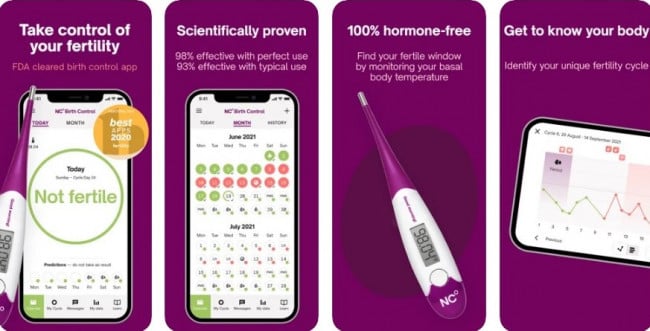 PROS
CONS

✔ With regular basal body temperature monitoring, this app should reliably track ovulation.

✔ Very functional app, easy to navigate.

✘ This app seems rather costly for the services offered.

✘ A specific thermometer is required for basal temperature monitoring.

✘ This app is unlikely to be as reliable when used for contraceptive purposes if you have a very irregular menstrual cycle.

✘ It takes some time for the app algorithm to get to know your cycle, so you are likely to get many 'red' (potentially fertile) days initially.
Review details
Date of review: April 2021
Platform reviewed: Android
Version: 4.1.5
Related topics
Fertility apps
NZ Health App Library
Consumer guide: how to choose a health app
Clinicians guide: how to choose a health app
Fertility awareness
Contraception topics
App developer: If you are the developer and would like to provide updated information about this app, please email the app library manager at
hello@healthify.nz
Disclaimer: Healthify's app library is a free consumer service to help you decide whether a health app would be suitable for you. Our review process is independent. We have no relationship with the app developers or companies and no responsibility for the service they provide. This means that if you have an issue with one of the apps we have reviewed, you will need to contact the app developer or company directly.