MyFitnessPal app
By MyFitnessPal
Features


Goal setting – nutrition, physical activity and weight
Food diary
Calorie counter
Weight chart
Exercise tracker
App community
Reminders to record breakfast, lunch, dinner and water intake
Graphs and reporting

Get the app from



Country of origin
USA
Clinical review




Read a clinical review of this app.

User reviews

(1 review)


Have you used this app? Tell us what you think of it

Rate this app

Security and privacy
Does the app:

collect medical information? Yes (Weight, height, date of birth, etc)
require a login? Yes - Facebook or email
have password protection? Can be password protected. Password required for initial sign up but not when reopening app
have a privacy policy? Yes
require internet access? Yes

Read more

safety tips around health apps

.

Cost

Basic: Free
Paid upgrade: Premium $32.99

Advertisements

Basic: The free version contains ads, which may vary from user to user.
Paid upgrade: The premium version does not contain ads.
What does the app do?
MyFitnessPal is an app that allows users to record food consumed and monitor their food composition through a food database. The food database is compiled by both MyFitnessPal (based in America) and users (who live globally). The primary aim of the app is to monitor energy intake and exercise output to help you achieve a range of nutrition, fitness and weight goals. Additional features of the app allow for weight and exercise monitoring and analysis of energy intake distribution through the day, monitoring of limited micronutrients (sodium, potassium, vitamin A, vitamin C, calcium, iron) and access to an online community.

You can search for the food and drink consumed, allocate an amount and link this to a main meal or snack. You can also track type and amount of exercise and record your weight.

Premium offers meal scanning and barcode scanning (which may/may not work in New Zealand), access to meal plans and workout plans, further analysis of foods contributing the most carbohydrate, protein and fat and ability to export data.

For a more detailed description of the app, see Google Play(external link) or iTunes(external link) and for a detailed review, see Reviews.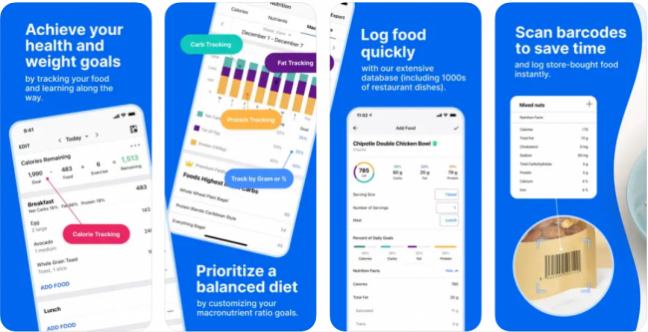 Pros

Cons

✔ Links with many fitness apps and devices

✔ Prompts for user to input data

✔ Shows breakdown of energy consumption through the day

✔ Shows breakdown of macronutrient consumption for the day

✔ Extensive food database and includes many NZ food products.

✘ Food database is compiled by both MyfitnessPal (based in America) and users (who live globally) which limits its accuracy.

✘ Barcode scanning and scanning a meal only available on premium.

Review details
October 2022, version 22.20.0-25918, Android
November 2014, Android
Disclaimer: Healthify's app library is a free consumer service to help you decide whether a health app would be suitable for you. Our review process is independent. We have no relationship with the app developers or companies and no responsibility for the service they provide. This means that if you have an issue with one of the apps we have reviewed, you will need to contact the app developer or company directly.