Note: This app appears to no longer be available in the New Zealand app stores.
My Waterworks
By Green Cross Medical
Features


Guided questionnaire
Summary report
Can be sent as email

Get the app from


Clinical review

(Not yet reviewed)

User reviews

(0 reviews)


Have you used this app? Tell us what you think of it.

Rate this app

Cost
Free
What does the app do?
This app is designed to help with urinary problems that can often be caused by your bladder or prostate. The medical questionnaire covers similar questions your doctor will ask. It will help you have your answers ready and lets you think about them carefully in the comfort of your own home. The app summarises your symptoms into reports that can be shown to your doctor.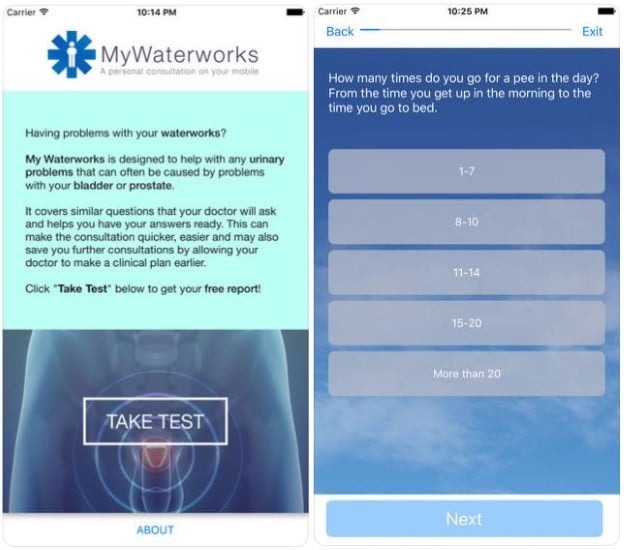 Pros

Cons

✔ Free and no advertisements

✔ Simple design and easy to use

✔ Creates detailed medical report you can show your doctor

✘ Reports cannot be exported
Review details
Date of review: January 2017
Platform reviewed: Android
App version: 1.0
Download size: 20 MB
References
The following references relate to articles about apps for assessing prostate health.
Kim JH, Kwon SS, Shim SR et al. Validation and reliability of a smartphone application for the International Prostate Symptom Score questionnaire: a randomized repeated measures crossover study.

(external link)

J Med Internet Res. 2014 Feb 10;16(2):e38.
Disclaimer: Healthify's app library is a free consumer service to help you decide whether a health app would be suitable for you. Our review process is independent. We have no relationship with the app developers or companies and no responsibility for the service they provide. This means that if you have an issue with one of the apps we have reviewed, you will need to contact the app developer or company directly.