Musculoskeletal MSK Self-Care
By Leicestershire Partnership NHS Trust with LHIS
Features


Information and education
Exercise videos

Get the app from



(external link)

Clinical review






Read a clinical review of this app.

User reviews

(0)


Have you used this app? Tell us what you think of it


Rate this app

Security and privacy
Does the app:


collect medical information? No
require a login? No
have password protection? Yes (only through your phone password)
have a privacy policy? No
require internet access? Yes

Read more safety tips around health apps
Cost
Free
What does the app do?
This app aims to provide support and guidance for people with back, neck, upper limb and lower limb joint pain or stiffness as a result of injury or other causes. The home screen is divided into 4 body-part sections: back, neck, upper limb (shoulder, elbow, hand, wrist, fingers) and lower limb (knee, ankle, foot, leg, hip). Each section has further sub-sections:
Info gives an overview of pain associated with that body part, symptoms, conditions and self-help advice.
Leaflets links to leaflets and website giving details of different exercises.
Videos has videos showing how to do different exercises.
For the complete app description, go to the App Store(external link) or for a detailed review see Reviews.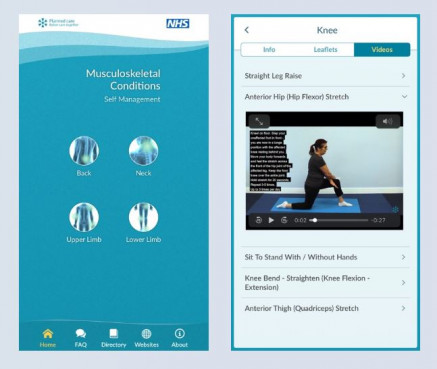 PROS
CONS

✔ Site is straightforward to use.

✔ Could be a first port of call when experiencing acute joint pain or stiffness.

✔ Videos are clear with easy-to-follow verbal instructions.


✘ Only 2 website links available, despite advertising multiple links.

✘ Permissions for this app involves access to photos/media/files, read the contents of your USB storage and modify or delete the contents of your USB storage.
Review details
Date of review: August 2019
Platform reviewed: Apple
Version: 1.1.0
Download size: 27.1 MB
Updated on: 4/05/2019
Learn more
References
Adams J, Lowe W, Protheroe J, et al. Self-management of a musculoskeletal condition for people from harder to reach groups: a qualitative patient interview study.

(external link)

Disabil Rehabil. 2018 Oct 28:1-9.
Disclaimer: Healthify's app library is a free consumer service to help you decide whether a health app would be suitable for you. Our review process is independent. We have no relationship with the app developers or companies and no responsibility for the service they provide. This means that if you have an issue with one of the apps we have reviewed, you will need to contact the app developer or company directly.