MS Energise
By AUTEL, in collaboration with AUT University NZ, Bournemouth University, University of Brighton
Features


Sleep tracker
Activity tracker
Education and information
Self-help tips and advice

Get the app from


(external link)

(external link)

Country of origin

New Zealand

Clinical review




Read a clinical review of this app.

Cost

Free version has first 2 levels of one of the modules. Pay $18.99 to access all content and features

Learn more about app charges
What does the app do?
MS Energise app uses cognitive-behavioural therapy (CBT)–based approaches to help people with multiple sclerosis manage their fatigue. It has 7 modules —thoughts, behaviour, emotions, fatigue, body, world, future. Each module has an education section and self-management tools and techniques. The app gives insight into the way behaviour, thoughts, emotions, bodily factors, and the environment can contribute to fatigue. By improving understanding of the illness and changes in thinking and behaviour, users can better manage their condition.
For the complete app description, go to iTunes(external link) (apple) or the app website(external link) and for a detailed review, see Reviews.
Note: The usability of the MS Energise app has been field-tested in MS patients in NZ and the UK. Read more about the study and users feedback(external link).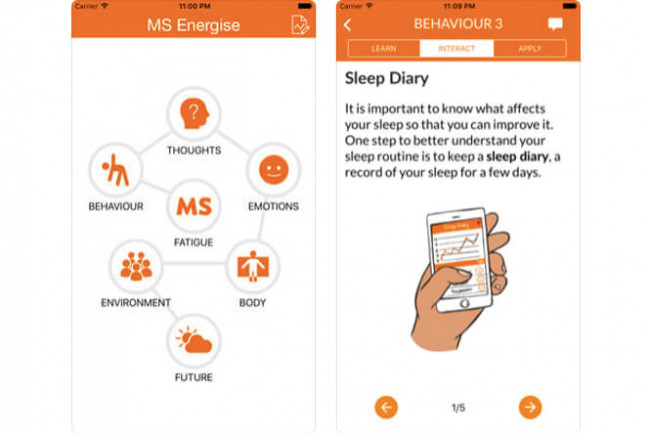 PROS
CONS

✔ Based on a proven approach for managing MS (CBT)

✔ University-developed

✔ Is interactive - allows users to record fatigue and energy levels

✔ Easy to use

✘ Only available on iTunes (App store) — not available for Android devices (Play Store)
Privacy and security
The app is not password protected. Users do not need to log on. It does not appear to have a privacy policy. Read more about things you can do to improve your safety and security when using apps.
Review details
Date of review: January 2018
Platform reviewed: Apple
Version: 1.0.2
Download size: 72.5 MB
Learn more
This app has been reviewed by other independent websites: ms Multiple Sclerosis New Zealand(external link)
Related topics
Multiple sclerosis support
Consumer guide: how to choose a health app
Clinicians guide: how to choose a health app
Security and privacy of health apps
NZ Health App Library
References
Babbage DR, Van Kessel K, Drown K, et al MS Energize: Field trial of an app for self-management of fatigue for people with multiple sclerosis

(external link)

. Internet Interv. 2019 Nov 9;18:100291.
Van Kessel K, Babbage DR, Reay N, et al. Mobile Technology Use by People Experiencing Multiple Sclerosis Fatigue: Survey Methodology

(external link)

. JMIR Mhealth Uhealth. 2017 Feb 28;5(2):e6
Winberg C, Kylberg M, Pettersson C, et al. The Use of Apps for Health in Persons with Multiple Sclerosis, Parkinson's Disease and Stroke - Barriers and Facilitators

(external link)

. Stud Health Technol Inform. 2017;242:638-641
App developer: If you are the developer and would like to provide updated information about this app, please email the app library manager at
hello@healthify.nz
Disclaimer: Healthify's app library is a free consumer service to help you decide whether a health app would be suitable for you. Our review process is independent. We have no relationship with the app developers or companies and no responsibility for the service they provide. This means that if you have an issue with one of the apps we have reviewed, you will need to contact the app developer or company directly.