MenoPro
By The North American Menopause Society
Features


Clinician and patient version
Cardiovascular disease risk score calculator
Education and information

Clinical review



Security and privacy
Does the app:


collect medical information? Unknown
require a login? No
have password protection? No
have a privacy policy? No
require internet access? Yes

Read more safety tips around health apps
Cost
Free
What does the app do?
This app is aimed at healthcare providers and patients as a shared decision-making tool. Users have to select whether they are a healthcare provider or a patient and then follow a series of questions. The questions in both sections ask about age, symptoms and behavioural or lifestyle modifications. To assist with the decision about using hormone replacement therapy, the app estimates your cardiovascular risk and then provides suggestions on drug treatment. Many of the drugs are not available in New Zealand. The app structure is very similar to the North American Menopause Society website and the app links to many reading resources on the website.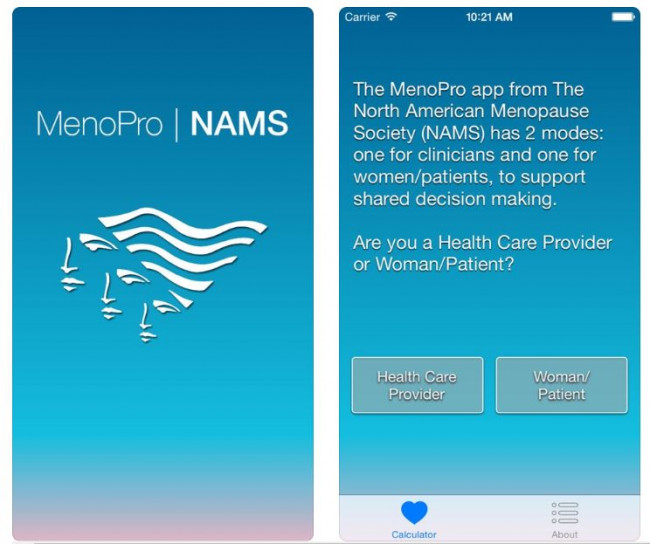 PROS
CONS

✔ Links to the North American Menopause Society information sheets (pdf format) which are quite good.

✔ Accurate information.

✔ Clinician and patient version.


✘ In the patient version, the app uses a lot of medical jargon and medical acronyms without any explanation, eg, it talks about 'CVD risk', 'CE with a 3rd generation selective estrogen receptor modulator', and 'reduced libido through SHBG effect', but doesn't explain what these mean.

✘ Last updated in September 2016 (almost 3 years prior to review).

✘ No symptom tracking.

✘ White text on blue background and many walls of text, which can be hard to read.
Review details
Date of review: September 2019
Platform reviewed: Apple
Version: 1.4.0
Download size: 7.8 MB
Updated on: 11/06/2018
Released on: 16/10/2014
Reviews
Clinical review

Reviewer: Jeremy Steinberg, GP, FRNZCGP
Date of review: September 2019
Version: 1.4.0
Comments: While the information presented is largely accurate, I can't see this app being useful for either patients or doctors. It could potentially be useful for North American doctors to help guide treatment, but the different treatment options in New Zealand limit its utility and we have much better local resources. I actually found it harder to use this app than just reading information from a website. It also lacks features that some other menopause apps have, like symptom tracking. Overall users are likely to gain very little from use of this app.
Safety concerns: None.
New Zealand relevance: Only very few of the medications listed are available in New Zealand and some of our brand names are different. Brand (rather than generic) names of drugs are often used. Information sheets are from the North American Menopause Society. Our local algorithms are slightly different. For example, we look at cardiovascular risk factors but don't use a cardiovascular risk score for deciding on therapy.
App developer: If you are the developer and would like to provide updated information about this app, please email the app library manager at
hello@healthify.nz
Disclaimer: Healthify's app library is a free consumer service to help you decide whether a health app would be suitable for you. Our review process is independent. We have no relationship with the app developers or companies and no responsibility for the service they provide. This means that if you have an issue with one of the apps we have reviewed, you will need to contact the app developer or company directly.