Medisafe Meds & Pill Reminder
By Medisafe
Features


Medicine list with shape and colour identification feature
Medicine tracking history
Medicine reminders and alerts
Repeat or refill reminder
Notifications can be shared with other people
Reports can be generated for sharing
Can include measurements such as blood pressure, blood test results, pain scores, mood, weight and temperature or general notes

Get the app from



Clinical review






Read a clinical review of this app.

User reviews
(2 reviews)





Have you used this app? Tell us what you think of it

Privacy and security
Does the app:


collect medical information? Yes
require a login? No
have password protection? Yes
have a privacy policy? Yes
require internet access? Yes

Read more

safety tips around health apps
Cost

Learn more about app charges
What does the app do?
This app helps you keep track of your medicines. It allows you to create a medication list and set reminders or prompts to remind you when to take a particular medicine. The app also allows you to record medical tests, measurements and results, add medical appointments to a dairy, and record how you are feeling.
For the complete app description, go to Google Play(external link) (Android) iTunes(external link) (Apple) and, for a detailed review, see Reviews.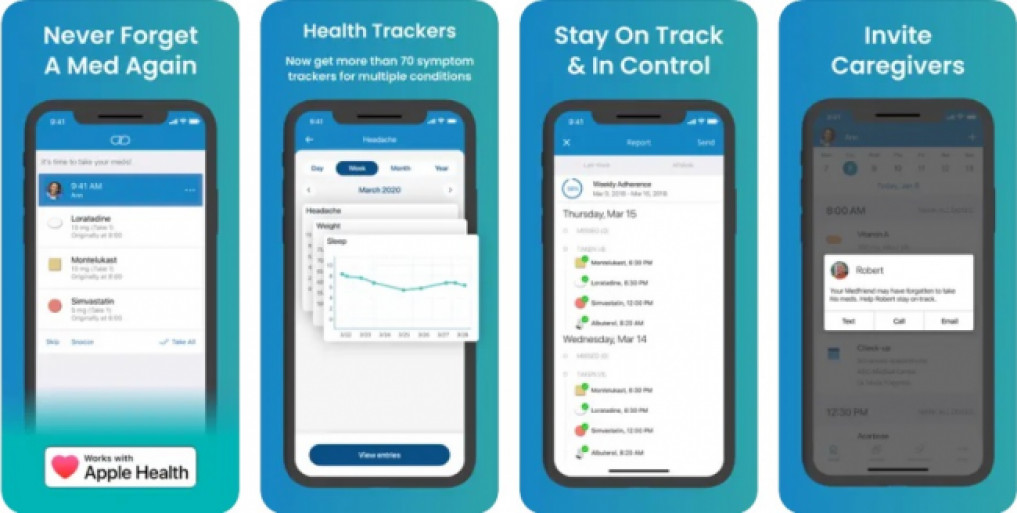 PROS
CONS

✔

Can select appearance of medicine – the app has provision to record the shape and colour of medication



✔

Allows user to keep count of medicines left and prescription number



✔

Easy to use



✔

Can share reports with others



✔

Can keep track of appointments



✔

Can include measurements such as blood pressure, blood test results, pain scores, mood, weight and temperature or general notes

✘

The medication list is based on medications available in the US – some medication brands may not be relevant in New Zealand
Review details
April 2020: Version: 8.76.09159, Apple
September 2016: V

ersion: 7.00.02219,

Android
References
The following references relate to articles about apps for medication adherence.
Disclaimer: Healthify's app library is a free consumer service to help you decide whether a health app would be suitable for you. Our review process is independent. We have no relationship with the app developers or companies and no responsibility for the service they provide. This means that if you have an issue with one of the apps we have reviewed, you will need to contact the app developer or company directly.