Manawa app
By Counties Manukau District Health Board

Features

Personal safety plan.
Ways of identifying internal coping strategies.
Provision for adding social contacts and supporters.
Helplines.

Get the app:


(external link)

(external link)

Country of origin
New Zealand
Clinical review

Coming soon

Security and privacy
Does the app:


collect medical information? Yes
require a login? No
have password protection? No
have a privacy policy? Yes
require internet access? No

Read more safety tips around health apps.
Cost

Free

Advertisements
This app contains no ads.
What does the app do?
Manawa app is a survival plan app to help users make their own plan to manage and reduce suicidal feelings and stay safe when these feelings emerge. 'Manawa' symbolises having hope in your heart, it's the driving force behind why you are putting this plan together.
The survival plan covers the following 7 areas:
Recognising warning signs.
My reasons to live.
Keeping safe – reducing potential for use of lethal means.
What can I do by myself – using internal coping strategies (without contacting another person).
Who can I connect with – socialising with others as a way of distraction.
My supporters – contacting whānau members, friends or professionals to help resolve crisis.
Helplines.
This app is based on the Mental Health Foundation of New Zealand and Ministry of Health booklet, "Having suicidal thoughts and finding a way back(external link)".
For the complete app description, go to Google Play(external link), App Store(external link) or, for a more detailed review, see Reviews.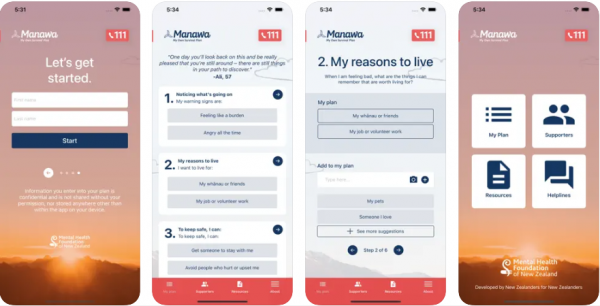 Related topics
Self-harm prevention apps
Mental health and wellbeing apps
Consumer guide: how to choose a health app
Clinicians guide: how to choose a health app
New Zealand-based apps
NZ Health App Library
App developer: If you are the developer and would like to provide updated information about this app, please email the app library manager at applibrary@healthify.nz
Disclaimer: Healthify's app library is a free consumer service to help you decide whether a health app would be suitable for you. Our review process is independent. We have no relationship with the app developers or companies and no responsibility for the service they provide. This means that if you have an issue with one of the apps we have reviewed, you will need to contact the app developer or company directly.