LPT Falls Prevention app
By Physitrack PLC

Features

The app does have an option of a user getting a personalised exercise programme, specific to those residents of Leicestershire. This wasn't able to be viewed part of the app, but this seems to be linked to Physitrack, a well-established exercise prescription software in the physiotherapy community.

Get the app:


Country of origin
New Zealand
Clinical review




Read a clinical review of this app.

Security and privacy
Does the app:


collect medical information? Unknown
require a login? No
Can be password protected No
have a privacy policy? Yes
require internet access? Yes

Read more safety tips around health apps.

Cost

Free

Advertisements
This app contains no ads.
What does the app do?
This app is designed to reduce the risk of falls. It has specifically been designed by the Leicestershire Partnership to run alongside the in person supports as part of the falls prevention service. For those users in that region, the app links them in with a particular class and allows them to access a personalised exercise programme.
For those users out of Leicestershire, the app has a more limited use. Users will be able to access a video that provides high quality advice and exercises related to reducing the risk of falls.
For the complete app description, go to the app website(external link), Google Play(external link), App Store(external link) or, for a more detailed review, see Reviews.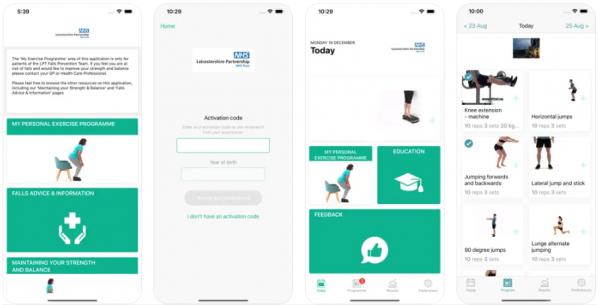 | PROS | CONS |
| --- | --- |
| ✔ The video that is available through NZ has high-quality balance advice. Education is accurate, and the exercises have been well chosen, and would be consistent to what would be prescribed in New Zealand, seeing a physiotherapist who may have prescribed an Otago Falls Prevention type programme. | ✘ The app is very limited for those users out of Leicestershire. Although there is some good information on here, it is likely that the falls prevention information could be found through other avenues, without having to download the app. |
Review details
Date of review: July 2023
Platform reviewed: Android (Needs Android 7.0 or greater to operate)
Version: 4.7.0 (Updated 26/5/23)
Related topics
Consumer guide: how to choose a health app
Clinicians guide: how to choose a health app
Falls prevention topics
New Zealand-based apps
NZ Health App Library
App developer: If you are the developer and would like to provide updated information about this app, please email the app library manager at
hello@healthify.nz
Disclaimer: Healthify's app library is a free consumer service to help you decide whether a health app would be suitable for you. Our review process is independent. We have no relationship with the app developers or companies and no responsibility for the service they provide. This means that if you have an issue with one of the apps we have reviewed, you will need to contact the app developer or company directly.