Kids Beating Asthma
Basic features

No in-app advertising
Doesn't need WiFi/Mobile data except for the app updates
No social networking (not needed since the app targets a younger audience)
What does the app do?
This app is designed to help educate children and teenagers about asthma. The app has English or Spanish language options and includes two sections, one for children under 12 years old and the other for teenagers (which was under development and not accessible at the time of this review). The app includes an education component with graphics and audio explanation of breathing and asthma. There is also a games section with two basic games. Much of the app is under development and is incomplete such as the entire teenage section and only 2 out of the 5 modules are complete. Overall the intention of the app is great, but it fails to deliver. See Pros & Cons below.
For the complete app description, go to either iTunes(external link) (Apple).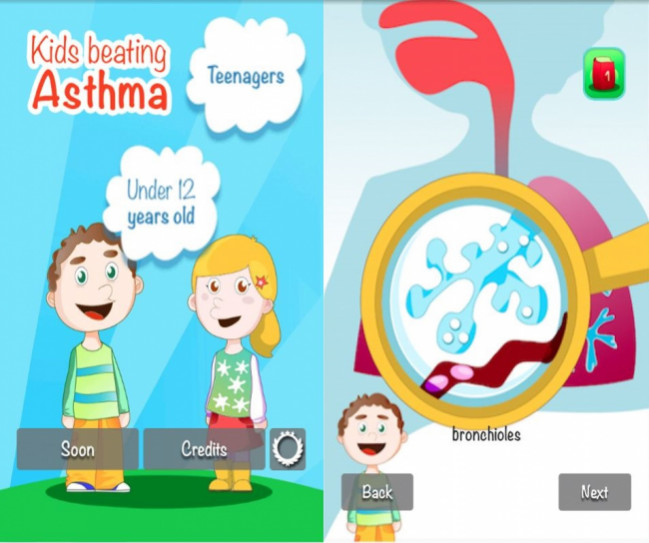 PROS
CONS

✔ Fun and interactive way to teach children about asthma.

✔ The bright colours and bold images are appealing to children.

✔ Has some quirky jokes which kids are likely to find engaging.

✘ Most of the app development appears incomplete such as the teenage section, some of the content and most of the games. The app was last updated in 2013, so its been incomplete for a while now.

✘ Despite selecting the English option, some of the text appears in Spanish.

✘ The storyteller has a strong Spanish accent making some of the content difficult to understand - kiwi kids are not usually familiar with this accent or pronunciation of words.

✘ Not all information is age appropriate, and at times appears quite complex, for example, children under 12 years are unlikely to understand what is meant by the option Content and in learning about how we breath, in-depth, complex descriptions are given about bronchi, bronchioles, alveoli and the working of the diaphragm.

Date of this review: March 2017
Reviews
Tech review
The tech review relates to the technical aspects of the app, such as security, privacy, etc.
Reviewer: Unmesh Jyoti Nitin, PGDip Health Informatics, May 2017
Technical score: ★★☆☆☆
Review:
Security& Privacy: A privacy policy is not available. The app does not collect any personal information. However it has access to the photos and storage of the device. For more information contact developers at google.developer@medianet.es.
Platform Support:

Requires iOS 4.3 or later. Compatible with iPhone, iPad, and iPod touch. Requires Android 2.2 and up.
Performance:

App is not completely responsive and features such as accessing the camera to take photos does not work — causes the app to freeze.
Impact of app on battery:

App doesn't use mobile data or WiFi except for app update.

Therefore, it has minimal impact on battery.
Data Sharing

:

No apparent data sharing.
Learn more
The following links provide more detailed information on the technical aspects of apps.

Understanding mobile apps Consumer Information(external link)(external link) Federal Trade Commission
Mobile Privacy(external link)(external link) North Caroline Health Info
Mobile health and fitness apps: What are the privacy risks?(external link)(external link) Privacy Rights Clearinghouse
App developer: If you are the developer and would like to provide updated information about this app, please email the app library manager at
hello@healthify.nz
Disclaimer: Healthify's app library is a free consumer service to help you decide whether a health app would be suitable for you. Our review process is independent. We have no relationship with the app developers or companies and no responsibility for the service they provide. This means that if you have an issue with one of the apps we have reviewed, you will need to contact the app developer or company directly.