INR Tracker
By INRTracker LLC
Features


Web-based, mobile friendly
INR recording
Vitamin K food database
Education and information
Deep vein thrombosis and pulmonary embolism calculators
Discussion forum (not monitored by a health professional)

Clinical review



Security and privacy
Does the app:


collect medical information? Yes
require a login? Yes
have password protection? Yes
have a privacy policy? No
require internet access? Yes

Read more safety tips around health apps
Cost
Free
What does the app do?
INR Tracker in a web-based, online tool for people taking warfarin to track their INR, medication and appointments. It includes a food database so users can record their daily foods and drinks to find out how much vitamin K they are consuming. The app also has provision for recording other information such as weight, blood pressure, wellness, exercise, menstruation and temperature. Users can generate reports of their warfarin dose and INR results.

While this app has many useful features, an area of concern is the discussion forum that is not monitored by a health professional.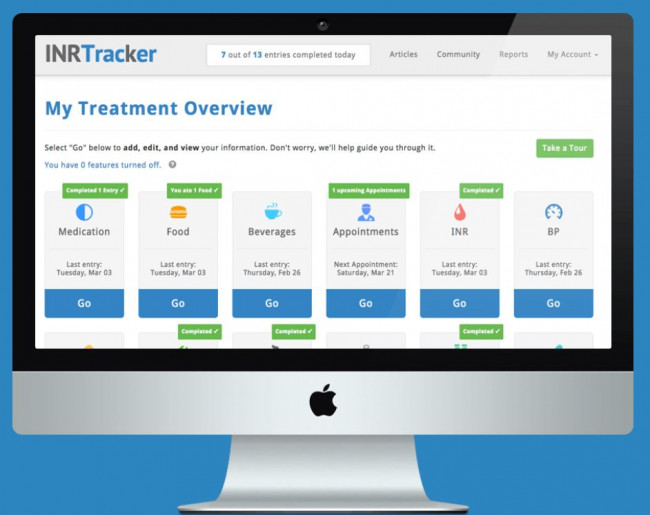 PROS
CONS

✔ Can keep track of INR and warfarin doses/missed doses, activity and check which foods are high in vitamin K.

✘ US-based so some things might not be relevant or easy to convert to NZ lifestyles.

✘ The discussion board is not monitored by a health professional.
Review details
Date of review: January 2020
Platform reviewed: Online
Reviews
Clinical review

Reviewer: Angela Lambie, Pharmacist, Auckland
Date of review: January 2020
Comments: This web-based, mobile-friendly tool enables patients to log their daily activity, analyse their INR results, have access to articles, use a Vitamin K food database, DVT and PE calculators and join a discussion forum. Can log appointments, blood pressure, wellness and exercise. Available in English, Spanish, German and French. Overall it is a very well designed app and would be very helpful for people wanting to tract their warfarin dose, INR results and other health data. It has comprehensive information about vitamin K but since this is US-based, some of the foods may not available in other countries. It has an active discussion board but this is not monitored by a health professional.
Safety concerns: There is a fairly active discussion board that is answered by other patients/members of the public. Responses are not monitored by health professionals so the advice may not be in line with medical recommendations or be evidence-based.
New Zealand relevance: The foods listed in the vitamin K food database are US-based foods with brands not available in NZ.
App developer: If you are the developer and would like to provide updated information about this app, please email the app library manager at
hello@healthify.nz
Disclaimer: Healthify's app library is a free consumer service to help you decide whether a health app would be suitable for you. Our review process is independent. We have no relationship with the app developers or companies and no responsibility for the service they provide. This means that if you have an issue with one of the apps we have reviewed, you will need to contact the app developer or company directly.