INR log

By HealthObs Ltd

Features


Medication reminders
INR blood test reminders
Graphs and reports
New Zealand app

Get the app from


(external link)

Country of origin

New Zealand

Clinical review




Read a clinical review of this app.

Security and privacy
Does the app:


collect medical information? Yes
require a login? No
have password protection? No
have a privacy policy? Yes (has terms and conditions)
require internet access? No

Read more safety tips around health apps
Cost
Free
What does the app do?
The INR log app is for people who are taking warfarin and their carers to keep track of their warfarin dose and INR results. Users are required to set their therapeutic INR range (upper and lower limit), select the tablets they use (brand and strength) and their test results (date done and INR result).

To help users identify the warfarin tablets they are taking, the app has images of the different brands (Marevan or Coumadin) and strengths. Users can set daily medication reminders and reminders for when their next test is due. The Resources section has provision to add or delete results and to add previous results. For the complete app description, go to the App Store(external link) or, for a more detailed review, see Reviews.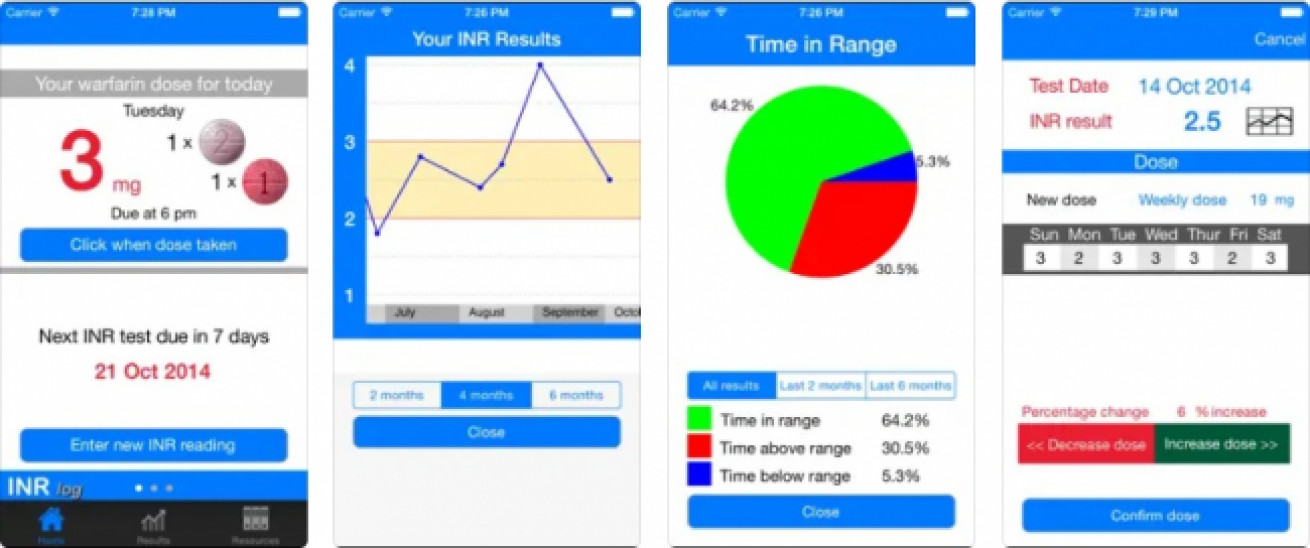 PROS
CONS

✔ Simple and easy to use.

✔ Optional reminders to take warfarin and arrange blood tests on time.

✔ Displays blood results on a graph so trends can be monitored.

✔ Images of the tablets çan help patients/carers to take the right dose and be familiar with their warfarin tablets.

✔ Prepares a clear printable report to share results with nominated GP via email and to send to self and print.


✘ Selection of the Coumadin brand can be confusing – not all the strengths of Coumadin tablets in the app are available in New Zealand and the colours of the different strengths may differ to that used in New Zealand (there is a statement in the app reminding users about this, but it can be missed).

✘ Doesn't provide additional patient information about warfarin (but the intention is for recording only and to see a healthcare professional if there are any concerns).

✘ The app selects the most appropriate daily dosing based on the overall weekly dose, which may be a different schedule to what people are used to taking.

✘ Available on iTunes for Apple devices only. Not available in the Play Store.
Review details
Date of review: August 2019
Platform reviewed: Apple
Version: 1.21
Download size: 5.9 MB
Last updated: August 2015
Related topics
Consumer guide: how to choose a health app
Clinicians guide: how to choose a health app
Security and privacy of health apps
Warfarin
Warfarin and INR
Warfarin apps
App developer: If you are the developer and would like to provide updated information about this app, please email the app library manager at
hello@healthify.nz
Disclaimer: Healthify's app library is a free consumer service to help you decide whether a health app would be suitable for you. Our review process is independent. We have no relationship with the app developers or companies and no responsibility for the service they provide. This means that if you have an issue with one of the apps we have reviewed, you will need to contact the app developer or company directly.