Note: This app appears to no longer be available in the New Zealand app stores.
hearWHO
By hearX Group
Features


Tracking
Reminders
Reporting of results
Data exports – can share your score

Get the app:



(external link)

Country of origin

Unsure (not Aotearoa New Zealand)

Clinical review




Read a clinical review of this app.

User reviews

(0)


Have you used this app? Tell us what you think of it.

Rate this app

Security and privacy
Does the app:


collect medical information? Yes
require a login? No
have password protection? No
have a privacy policy? Yes
require internet access? No

Read more safety tips around health apps.
Cost
Free
Advertisements
This app contains no ads.


What does the app do?
The hearWHO app is for users who would like to undergo a quick and easy assessment of their hearing condition. The app provides a simple hearing assessment for users to test their hearing.
For the complete app description, go to the app website(external link)or, for a more detailed review, see Reviews.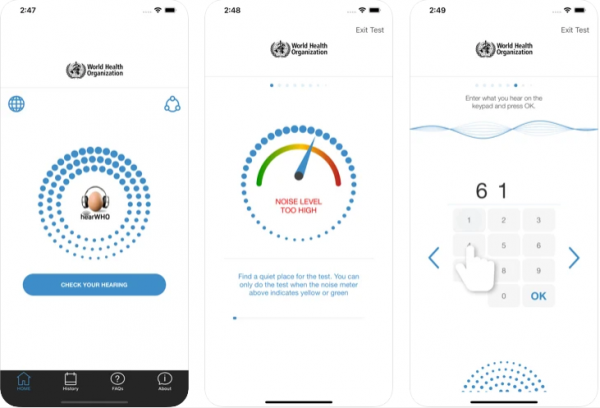 PROS
CONS

✔ Quick and easy to use.

✔ Immediate result.

✔ Alerts users if attempting to do test in unsuitable
surroundings with significant background noise.

✔ App tracks the history of test results.

✘ Does not explicitly present safety warning in the app to seek professional medical advice if concerns with hearing or other symptoms.

✘ Limited options on interactive activities for users (only 1 type of test available).

✘ The results are simplified and reported in arbitrary units so can only be used as a hearing screen.

✘ There is no guide on how to interpret results.

✘ Does not report on results for the left and right ear separately.

✘ The app does not recommend or necessitate ear phones for assessment.
Review details
Date of review: March 2022
Platform reviewed: Apple iOS
Version: 1.2.1
App developer: If you are the developer and would like to provide updated information about this app, please email the app library manager at
hello@healthify.nz
Disclaimer: Healthify's app library is a free consumer service to help you decide whether a health app would be suitable for you. Our review process is independent. We have no relationship with the app developers or companies and no responsibility for the service they provide. This means that if you have an issue with one of the apps we have reviewed, you will need to contact the app developer or company directly.