Healthy Mind
By Black Dog Institute

Features

Simple, step-by-step guide.
Relatable images.
Audio function for all content.
Video content.
Worksheets and progress sheets.

Get the tool:


(external link)




Country of origin
Australia
Security and privacy
Does the app:


collect medical information? No
require a login? No
have password protection? No
have a privacy policy? Yes
require internet access? Yes

Read more safety tips around health apps.
Cost
Free
Advertisements
This app contains no ads.


What does the tool do?
Healthy Mind is an online mental health tool for people with mild to borderline intellectual disability, who may also be experiencing mild to moderate depression, anxiety and/or stress. It helps users to recognise and regulate their thoughts and feelings and can be helpful for sustaining and building good mental health.
Healthy Mind consists of 5 interactive learning topics:
Recognising feelings has information about noticing your feelings and talking about your feelings.
Breathe and relax has information on how to relax your breathing and relax your body.
Taming anger has tips on how to calm your anger and talking when you feel angry.
Having more fun has tips on enjoyable activities and planning activities.
Tackling unhelpful thinking has guidance on managing unhelpful thoughts and focusing on helpful thoughts.
For each topic, users can learn about it, watch a video about it and practice what they've learnt ('do it'). These parts can be completed individually and/or accessed in any order. The duration to complete each part ranges from about 2–5 minutes. Additional optional resources include simple activity worksheets and a progress sheet for users to keep track of their progress and tick off topics they've completed. The entire programme is supported by an audio option, for people who prefer to listen rather than read.
It's recommended that you use Healthy Mind in Chrome, Edge or Fire Fox. Healthy Mind is not fully supported in Internet Explorer.
For a complete description, go to the website Health Mind.(external link)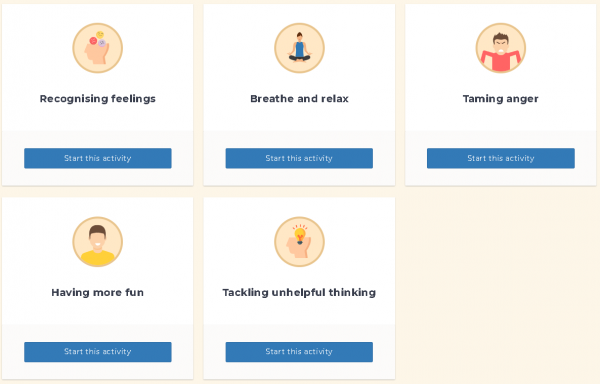 Review details
Date of review: October 2023
Platform reviewed: Chrome
Learn more
Watfern C, Heck C, Rule C et al. Feasibility and acceptability of a mental health website for adults with an intellectual disability: qualitative evaluation(external link) JMIR Ment Health 2019;6(3):e12958
Healthy Mind – product information and terms of use
App developer: If you are the developer and would like to provide updated information about this app, please email the app library manager at
hello@healthify.nz
Disclaimer: Healthify's app library is a free consumer service to help you decide whether a health app would be suitable for you. Our review process is independent. We have no relationship with the app developers or companies and no responsibility for the service they provide. This means that if you have an issue with one of the apps we have reviewed, you will need to contact the app developer or company directly.