Glucose Buddy
By Azumio

Features


Blood glucose diary
Medication tracking
HbA1c recording
Food log
Graphs and reports
Blood glucose check reminder
Physical activity log
Blood pressure log

Get the app from


Clinical review




Read a clinical review of this app.

Privacy and security
Does the app:

collect medical information? Yes
require a login? No
have password protection? Yes
have a privacy policy? Yes
require internet access? Yes

Read more safety tips around health apps.

Cost

Learn more about app charges
What does the app do?
The Glucose Buddy app allows you to manually enter your blood glucose readings together with notes about food intake. You can pair it with your blood glucose meter if compatible. You can also enter your carbohydrate consumption, insulin dosages and activities. This can be automatically included from Apple Health Data if enabled. You can use the graph function to track your blood glucose levels over a selected period. Reports can be downloaded and shared.

The meal IQ section enables you to take photos of your meal, and then log your blood glucose. It will grade your meal depending on how it impacted your blood glucose to help you to make better food choices. You can share your results with other users, including your exercise and nutrition goals.
For the complete app description, go to either Google Play(external link) (Android) or iTunes(external link) (Apple) and for a detailed review, see Reviews.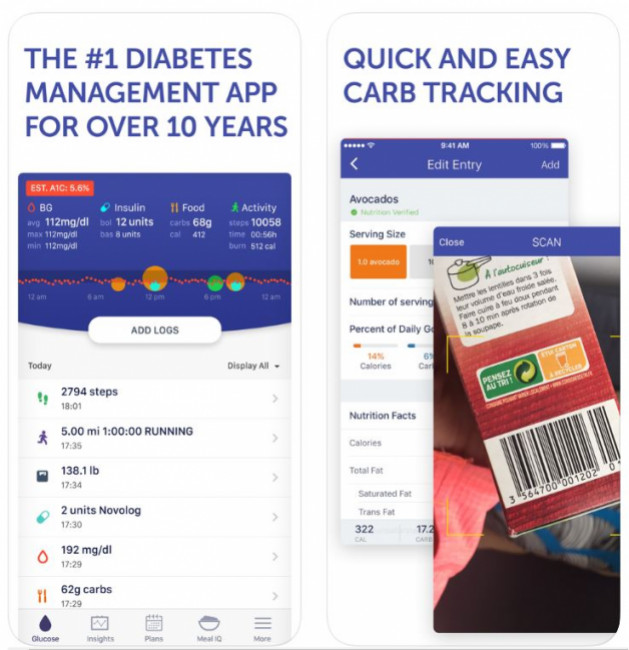 PROS
CONS
✔ It is easy to view trends because the time frame for the graphs are flexible, showing 7 days, 14 days or a month.
✘ Takes a while to include nutritional information but if you have a regular diet you can copy previous entries.

✘ There are pop-up ads which are distracting.

✘ Many additional functions and features are only available with paid upgrade.

Review details
April 2020: Version 5.234, Apple, internal and clinical review
June 2016: Version 1.0, Android, internal and clinical review
Related resources
This app has been reviewed by other independent websites.
Related topics
What is diabetes?
Diabetes type 2 apps
NZ Health App Library
Consumer guide: how to choose a health app
Clinicians guide: how to choose a health app
References
Rhyner D, Loher H, Dehais J, et al. Carbohydrate estimation by a mobile phone-based system versus self-estimations of individuals with type 1 diabetes mellitus: a comparative study.

(external link)

J Med Internet Res. 2016 May 11;18(5):e101.

Deacon AJ, Edirippulige S. Using mobile technology to motivate adolescents with type 1 diabetes mellitus: a systematic review of recent literature.

(external link)

J Telemed Telecare. 2015 Dec;21(8):431-8.
App developer: If you are the developer and would like to provide updated information about this app, please email the app library manager at
hello@healthify.nz
Disclaimer: Healthify's app library is a free consumer service to help you decide whether a health app would be suitable for you. Our review process is independent. We have no relationship with the app developers or companies and no responsibility for the service they provide. This means that if you have an issue with one of the apps we have reviewed, you will need to contact the app developer or company directly.