Gambling Therapy
By Gordon Moody Association
Features


Self-assessment questionnaire
Mindfulness and self-help exercises
Daily motivational quotes

Note: service providers and crisis support information is not applicable to New Zealand users.

Get the app from


Clinical review




Read a clinical review of this app.

Security and privacy
Does the app:


collect medical information: No
require a login: No
have password protection: No
have a privacy policy: Yes
require internet access: Yes

Read more safety tips around health apps
Cost
Free
What does the app do?
This app has information on what is problem gambling and a test for the users to assess whether their gambling is a problem. The test appears to be based on the Canadian Problem Gambling Index. The advice section comprises:
Mindfulness: audios on overcoming the urge to gamble, guided sitting meditation and tips on how to relax.
Self-help exercises: this section has a series of worksheets that the user needs to complete to help them understand their problem and figure out solutions such as a gambling diary, worksheets that help you identify gains and losses of gambling, triggers and what you can do to reduce it.
Limits and self-exclusion: describes features of websites that allow you to set limits.
Access, time and money: offers advice on practical barriers to gambling.
For the complete app description, go to the App website(external link) , Google Play(external link) or the App Store(external link) or for a complete review, see Reviews.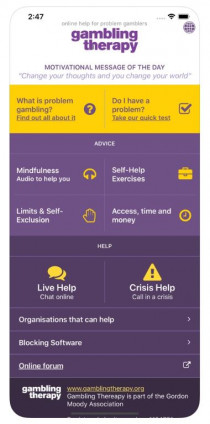 PROS
CONS

✔ Easy to identify if the user has problem gambling.

✔ Useful tool to set up the limits for users' gambling.

✔ Clear layout.

✔ Easy to use.


✘ For someone needing immediate help, there are numerous steps and users may not be able to spend time reading how to do it on the app.

✘ This app is mainly UK, US and Australian users. There is no information on service providers for New Zealand users.
Review details
Date of review: August 2019
Platform reviewed: Android
Version: 2.0.9
Download size: 71.21 MG
Updated on: 9/04/2019
Related topics
Problem gambling apps
Gambling overview
NZ Health App Library
Consumer guide: how to choose a health app
Clinicians guide: how to choose a health app
Security and privacy of health apps
App developer: If you are the developer and would like to provide updated information about this app, please email the app library manager at
hello@healthify.nz
Disclaimer: Healthify's app library is a free consumer service to help you decide whether a health app would be suitable for you. Our review process is independent. We have no relationship with the app developers or companies and no responsibility for the service they provide. This means that if you have an issue with one of the apps we have reviewed, you will need to contact the app developer or company directly.