Flamy
By Offlinefirst LTD
Features


Goal setting – can set saving goals (from not smoking).
Daily cravings

–

how strong, who made you feel, when, where and who you were with when they occurred.
Tracking

–

cigarettes not smoked, time been a non-smoker for, recovered days of life, and health benefits and cost savings this will have resulted in.
Calculator/counter

–

time to when your quit smoking program starts, and then time you have been a non-smoker for.
Graphs and reporting

–

cravings can be tracked.
App community.
Data exports

–

shareable with others (eg, via Facebook messenger).
Integrates with an OS smartwatch. Games to play to distract from cravings.

Get the app:


(external link)

(external link)

Country of origin
Cyprus
Clinical review



Read a clinical review of this app.

Security and privacy
Does the app:


collect medical information? Yes (smoking history and cost of a pack of cigarettes)
require a login? Yes
have password protection? Yes
have a privacy policy? Yes
require internet access? Yes

Read more safety tips around health apps.
Cost
Free with in-app purchases ranging from $1.79 to $15.99 per item.
Advertisements
This app contains ads, which may vary from user to user.


What does the app do?
When you first open the app you are invited to choose a quit program.

There are 2 options; stop smoking quickly by selecting the "14 Day Challenge", or more slowly by selecting the "One less every day" option, which is available as part of the paid upgrade.

The home screen is a dashboard which displays motivational information such as money saved, cigarettes not smoked, and time spent as a non-smoker. Health benefits and recovered days of life are also visible to remind you of the progress you have made.

The Health Tab clearly shows you how your body has recovered over time and you receive achievements for this. Cravings can be tracked along with details of how strong they were, how they made you feel and what may have triggered the craving (where you were, what you were doing or who you were with at the time).

The app offers games you can play to distract from cravings and an option to announce your plan and share progress with friends. You can also set challenges or bets in the app with other users who are also trying to quit smoking.

It has a clean interface with the option to integrate with an OS smartwatch.
For the complete app description, go to the app website(external link), App Store(external link) or, for a more detailed review, see Reviews.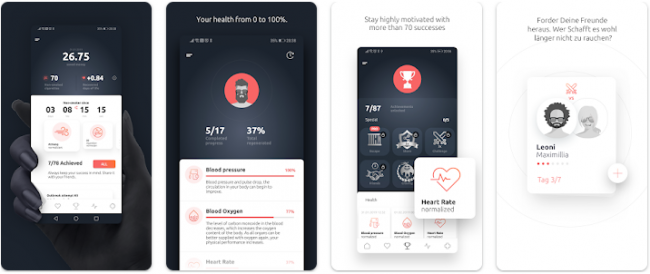 PROS
CONS

✔ The app immediately asks you to set a quit date or make a plan to quit smoking.
✔ It provides information on how to prepare for the quit-smoking start date (eg, throw away cigarettes and smoking devices, clean furnishings that may smell of smoke).
✔ Home screen provides lots of data to keep you motivated to remain smoke-free and info about the health benefits you've gained from quitting smoking.
✔ Ability to analyse cravings.
✔ Games you can play to distract you from cravings.
✔ Ability to share progress with friends or set challenges with other friends who use the app and are also trying to quit smoking.
✔ Clean user interface.

✘ The free basic version has very limited features. Payment is required to upgrade to the Pro version to access all the features.
✘ You have to pay for the 'One less every day' programme (You can test it for free).
✘ Doesn't have information on medicines which can be used to help quit smoking (eg, nicotine replacement therapy).
Review details
Date of review: December 2022
Platform reviewed: Android
Version: 4.1.15
Related topics
Smoking cessation apps
Quit smoking support
Quit smoking apps
Support to help you quit smoking
NZ Health App Library
Consumer guide: how to choose a health app
Clinicians guide: how to choose a health app
App developer: If you are the developer and would like to provide updated information about this app, please email the app library manager at
hello@healthify.nz
Disclaimer: Healthify's app library is a free consumer service to help you decide whether a health app would be suitable for you. Our review process is independent. We have no relationship with the app developers or companies and no responsibility for the service they provide. This means that if you have an issue with one of the apps we have reviewed, you will need to contact the app developer or company directly.