Firstcheck
By Firstcheck Ltd
Features


Skin imaging
Online skin consultation
Mole tracking

Country of origin

New Zealand

Clinical review



Cost

Free for app
$19.99 for skin consultation
$29.95 for optional dyplens (smartphone lens for magnified skin imaging)
Learn more about app charges
What does the app do?
This app is for New Zealand users to submit a photo of their skin concern to a skin specialist, at a cost from $19.95 NZD per photo consultation. The app can also be used to simply keep track of a mole, rash or other skin concerns over time.
The app guides users through the process starting with instructions on taking photographs of their skin concern. This can either be done with the user's mobile device or with an attachment on the mobile device called a dyplens (an optional purchase for $29.95 NZD) which takes a magnified image.
The app then asks users to provide details including where on the body it is located, how long it has been there, whether it has changed over time, accompanying symptoms, and risk factors for melanoma.
The user is given the option to save the information within the app for future reference, or choose a skin specialist in their region and submit the information for consultation. The specialist advises whether no further action or a follow-up appointment is needed or in some cases a course of over-the counter medicine may be advised.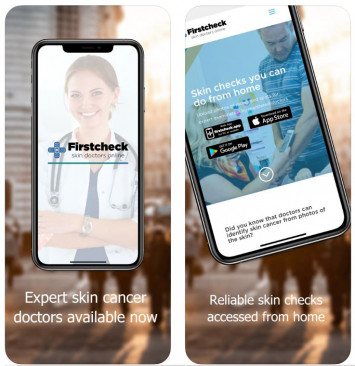 PROS ✔

CONS ✘

✔ Easy to use

✔ Passcode needed to view records for privacy

✔ Includes information about how to use the app and education about skin cancer

✘ Dermatologists recommend using the dyplens which costs an additional $29.95
Reviews
Clinical review

Reviewer: Dr Brian Wills, Skin Cancer Doctor, Molemedic Ltd
Date of review: October 2017
Review: This app is most useful for the diagnosis of skin cancer. Users are able to get easy, cost effective advice regarding a skin lesion. However, this is dependent on the quality of photos taken by user. The app is most useful if used with SkinScope device. I advise that the app is always used with SkinScope photo.
Safety concerns: Patient may be falsely reassured or not act on advice given.
New Zealand relevance: This app is highly useful given New Zealand's high skin cancer rate.
---
User review


Reviewer: Anonymous, Nelson, April 2018
Comments: Quick & easy to get doctor to check a mole.
---
User review



Reviewer: Anonymous, Castor Bay, Auckland, April 2018
Comments: This app is a convenient way to get moles checked by a doctor. I didn't like that my partner had to help take the photo on my back.
App developer: If you are the developer and would like to provide updated information about this app, please email the app library manager at
hello@healthify.nz
Disclaimer: Healthify's app library is a free consumer service to help you decide whether a health app would be suitable for you. Our review process is independent. We have no relationship with the app developers or companies and no responsibility for the service they provide. This means that if you have an issue with one of the apps we have reviewed, you will need to contact the app developer or company directly.