Effective weight loss tips
By naveeninfotech
Features


Free recipes
Exercises and yoga
Weight loss tips
BMI calculator

Clinical review





Cost

Free
What does the app do?
This app provides weight loss tips, a body mass index (BMI) calculator and a calorie chart for various food items. It promotes the use of "natural weight losing tips, and some home remedies for losing weight". The app includes suggestions on what food should eaten to reduce weight, what foods should be avoided, some simple exercises, and weight loss recipes.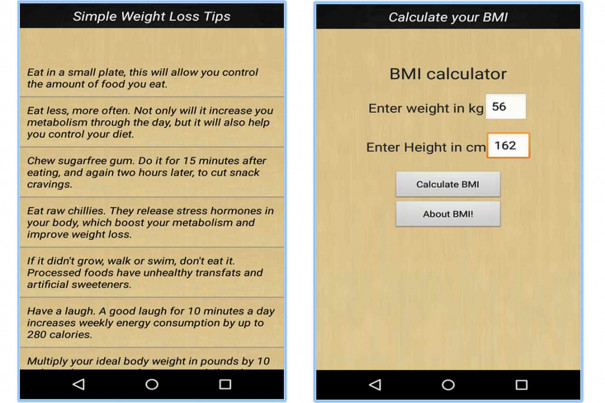 PROS

CONS

✔ The alerts relating to a person's BMI were correct stating whether an individual was considered normal, overweight or underweight. However, this is not adjusted for children or teenagers.

✔ It includes meal plans and recipe ideas.

✘ The app calculates BMI, body fat percentage, ideal body weight and energy requirements. The low energy requirements the app suggests is concerning and it does not take into account activity levels.

✘ Ideal body weight was calculated to a BMI of 21. In New Zealand, a BMI in the range between 18.5 – 24.9 is considered normal weight.

✘ The terms and words used in this app seem judgmental such as referring to the user as fat and/or lazy.

✘ The safety of some of the tips or suggestions are concerning as they do not appear to be evidence-based.

✘ The app developers did not appear to include anyone with a background in nutrition research, dietitians or public health professionals.
Privacy and security
App does not have a privacy policy and the data is not encrypted. Information/data for application is stored on your device or on your memory card. Read more about things you can do to improve your safety and security when using apps.
Review details
Date of review: July 2016
Platform reviewed: Android
App version: 4.06
Download size: 1.05 MB
Reviews
Clinical review

Reviewer: Dietitian App Review Working Group, Auckland DHB
Date of review: July 2015
Review: The use of this app is not recommended. Many weight loss tips are not evidence based and raised some concern about safety. Calorie requirements estimated were considered low and it was felt that in some cases micronutrient RDA would not be achieved at these calorie requirements. Recipes and meal plans were provided which included suggested portion sizes (including a specific section for Indian recipes). While meal plans were high in fruit and vegetables, they were very low in dairy products.
New Zealand relevance: The app calculated ideal body weight to a BMI of 21.In New Zealand, a BMI in the range between 18.5 – 24.9 is considered normal weight.
App developer: If you are the developer and would like to provide updated information about this app, please email the app library manager at
hello@healthify.nz
Disclaimer: Healthify's app library is a free consumer service to help you decide whether a health app would be suitable for you. Our review process is independent. We have no relationship with the app developers or companies and no responsibility for the service they provide. This means that if you have an issue with one of the apps we have reviewed, you will need to contact the app developer or company directly.