Easy Diet Diary NZ
By Xyris Software Australia
Features


Calorie counter
Diet tracker
Barcode scanning
Exercise tracker
Weight Chart

Get the app from



(external link)

(external link)

Clinical review



Read clinical reviews of this app

Security and privacy
Does the app:


Collect medical information: Yes (weight, height, date of birth, etc)
Require a login: Yes - Facebook or Email
Can be password protected: Password required for initial sign up but not when reopening app
Have a privacy policy: Yes
Require internet access to use: No

Read more safety tips around health apps
Cost
Free
What does the app do?
Easy Diet Diary is an app that records food consumed by the user and links to food composition software. The primary aim of the app is to monitor energy, protein, fat, carbohydrates and a limited number of micronutrients. Additional features of the app allow weight, exercise monitoring and an option of turning on renal nutrients, which estimates sodium, potassium, calcium and phosphorous intake.

This app is best used under the supervision of a dietitian or health professional with access to FoodWorks software (Xyris Ltd). If used in isolation it still has benefit for a knowledgeable consumer with an understanding of appropriate energy requirements and exercise.
For the complete app description, go to the Google Play store(external link) or App store(external link) or for a more detailed review, see Reviews.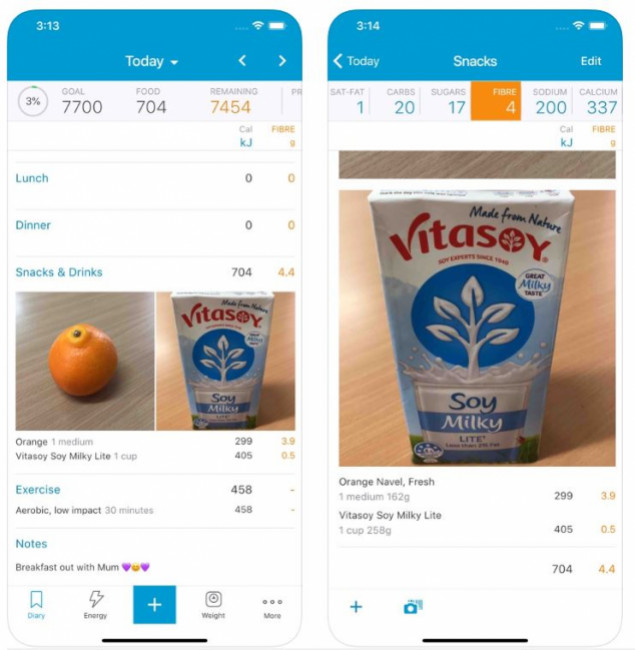 PROS
CONS

✔ Freely available.

✔ Generally easy to use.

✔ Ability to share data with a health professional or dietitian.

✔ Barcode or database search for food entry.


✘ Australian food composition database.

✘ Data entry becomes monotonous in time.

✘ Data entry is time consuming.



Review details
September 2022, Android, Version: 6.0.28
October 2019
Learn more
Related topics
Nutrition apps
Consumer guide: how to choose a health app
Clinicians guide: how to choose a health app
NZ Health App Library
Healthy eating
Food groups
App developer: If you are the developer and would like to provide updated information about this app, please email the app library manager at
hello@healthify.nz
Disclaimer: Healthify's app library is a free consumer service to help you decide whether a health app would be suitable for you. Our review process is independent. We have no relationship with the app developers or companies and no responsibility for the service they provide. This means that if you have an issue with one of the apps we have reviewed, you will need to contact the app developer or company directly.