distrACT
By Expert Self Care Ltd
Features


Tips and ideas for safer alternatives to self-harm
Resources such as music, poems, quotes, books and videos
Information about managing the urge to self-harm and caring for yourself after an incident of self-harm
Links to a variety of useful resources including safety planning, mindfulness, and websites providing ideas for self soothing through art, reading, films, etc.

Get the app from


(external link)

(external link)

Clinical review





Read a clinical review of this app.

Security and privacy
Does the app:


collect medical information? No
require a login? No
have password protection? Yes
have a privacy policy? Yes
require internet access? Yes

Read more safety tips around health apps.
Cost
Free
What does the app do?
This app is for young people, 17 years and older, who are concerned about self-harming. The app is specifically aimed at young people living in the UK but there are many features that are applicable to young people living in New Zealand. For example, the following sections may be helpful:
About self harm has information about what self-harm is, myths and facts, warning signs, dangers, etc.
Self-help has information on how to identify your needs, manage the urge to self-harm and safer alternatives to self-harm.
Support has tips and suggestions on how to get support and speak with family and friends.
Chill zone has a variety of resources to help you feel relaxed and inspired, with the aim of giving you a different perspective on things. Examples of resources are poems, quotes, music, movie and videos.
Emergency has information on first aid and what to do in an emergency.
Note: The local support feature is not applicable to New Zealand users. It has links to local support in the UK.
For the complete app description, go to Google Play(external link), App Store(external link) or for a more detailed review, see Reviews.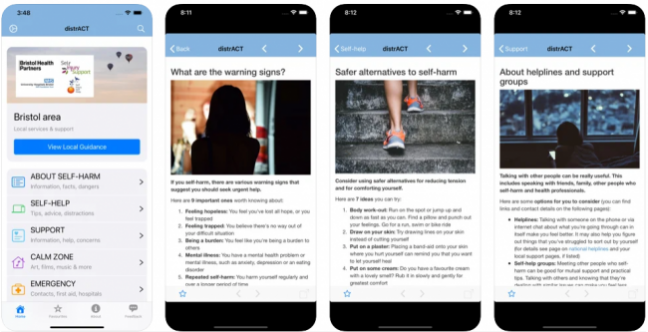 PROS
CONS

✔ Provides some practical tips and resources.

✔ Helps to increase knowledge of self-harm, suicide and related problems.

✔ Developed in conjunction with some UK medical institutions and health professionals.


✘ There are some important omissions:

no information about bullying (online and real-life)
no information about sleep and nightmares (common in people who self-harm)
no information about eating disorders (self-harm is very common in adolescents with eating disorders)
no information about the potential harms of social media and tips to limit use.

many reasons for

and functions of

self h

arm are missing, meaning that not everyone will feel validated by this app's take on self harm.

✘ App relies on written information making it feel more like reading a pamphlet than an interactive app.

✘Relies heavily on links to external content which is vulnerable to change and errors.
Review details
April 2022, Version 2.1.1, Android
September 2019, Version: 1.0, Android
Related topics
Self-harm
Consumer guide: how to choose a health app
Clinicians guide: how to choose a health app
Self-harm prevention apps
NZ Health App Library
References
Vieira AM, Lewis SP. Mobile apps for self-injury – a content analysis.

(external link)

Cyberpsychol Behav Soc Netw. 2018 May;21(5):333-337.
App developer: If you are the developer and would like to provide updated information about this app, please email the app library manager at
hello@healthify.nz
Disclaimer: Healthify's app library is a free consumer service to help you decide whether a health app would be suitable for you. Our review process is independent. We have no relationship with the app developers or companies and no responsibility for the service they provide. This means that if you have an issue with one of the apps we have reviewed, you will need to contact the app developer or company directly.