DermDiag
By Dermnet NZ
Features


Education and information
Interactive
Image library

View the tool:



(external link)









Country of origin

New Zealand

Clinical review





Read a clinical review of this app.

Security and privacy
Does the app:


collect medical information? No
require a login? No
have password protection? Not necessary
have a privacy policy? Yes
require internet access? Yes

Read more safety tips around health apps
Cost
Free
What does the tool do?
DermDiag is an online tool developed by DermNet to help you understand your skin condition. It is intended for educational purposes and doesn't provide medical advice.

By answering a series of questions, and with images to help you along, you are shown a selection of common skin conditions with the characteristics you have chosen. Although the tool doesn't provide clinical guidance, it helps you to talk to your doctor and to learn more about your skin condition.
For the complete description, go to the website(external link) or, for a more detailed review, see Reviews.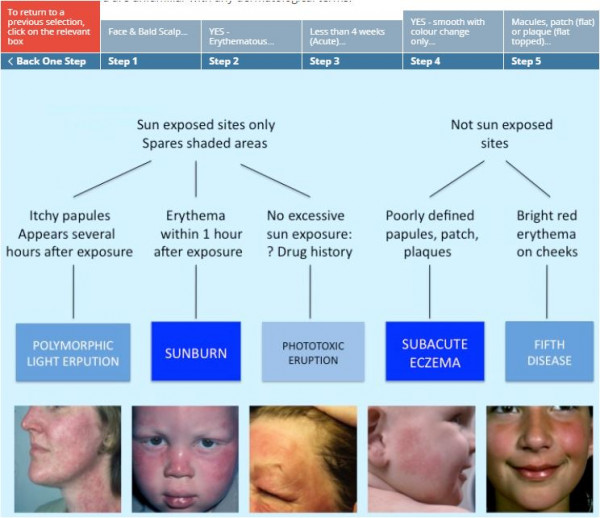 PROS
CONS

✔ Based on the textbook Differential Diagnosis in Dermatology by Barbara Leppard and Richard Ashton.

✔ Input from dermatologists.

✔ Explains dermatological terms and uses pictures as examples.

✔ Links to the relevant condition pages on DermNet.

✔ Designations regarding disease prevalence where relevant.

✔Easy navigation.


✘ Some people may find the language challenging at times, but a glossary is provided.


Review details
Date of review: November 2020
Platform reviewed: Web browser
Related topics
Skin infections
NZ Health App Library
Consumer guide: how to choose a health app
Clinicians guide: how to choose a health app
App developer: If you are the developer and would like to provide updated information about this app, please email the app library manager at
hello@healthify.nz
Disclaimer: Healthify's app library is a free consumer service to help you decide whether a health app would be suitable for you. Our review process is independent. We have no relationship with the app developers or companies and no responsibility for the service they provide. This means that if you have an issue with one of the apps we have reviewed, you will need to contact the app developer or company directly.