Note: This app appears to no longer be available in the New Zealand app stores.
Concussion coach
By US Dept of Veterans Affairs
Features


Education and information
Self-assessment questionnaire
Self-help tools
Symptom tracking

Clinical review

Non-sports concussion




Sports concussion




Read a clinical review of this app.

User reviews

Cost
Free
What does the app do?
This app is designed for people who have had a mild to moderate concussion or brain injury. The app is divided into 5 main sections:
Learn: has comprehensive information about concussion including its symptoms and treatment
Self-Assessment: enables users to track their symptoms and do a screening to ascertain the severity of the symptoms
Manage the Moment: has a range of coping tools and symptom management options
Build Resilience: comprises a wellness journal and goal recording
Resources and Support: links mainly to US-based resources and supports.
Although this app, created by US Dept of Veterans Affairs, is mainly for veterans, it can be used by anyone who has had a mild to moderate concussion or brain injury. This app is best used alongside advice from a healthcare professional. For a detailed review, see Reviews.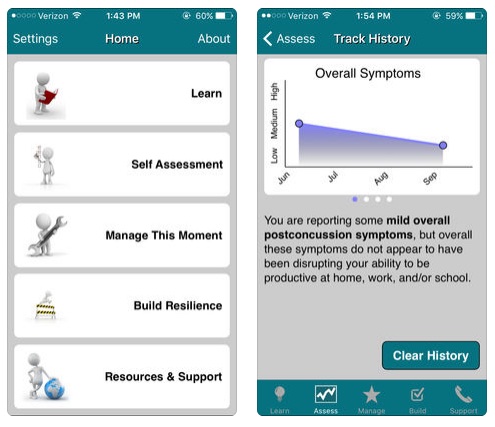 PROS
CONS

✔ Developed by subject matter experts.

✔ Concussion screening questionnaire.

✔ Users can assess and track symptoms using the neurobehavioural symptom inventory (NSI). You can set reminders to monitor progress.

✔ Multiple guided visual and/or auditory tools such as progressive muscle relaxation, mindful breathing, etc.

✔ Multiple tips on distraction, perspective changing, grounding, sleep and pleasant activities.

✔ Link your own soothing audio and pictures for using in times of distress.

✔ Tools are integrated through the "manage this moment" tab where you select a symptom that is bothering you and it suggests a tool.


✘ Some of the educational information was a bit sparse. Of note is there was no information on concussion in its relation to sport, especially with regards to gradual return to play.

✘ The interface is a bit clunky, not particularly visually appealing and it can be difficult to find some of the tools.

✘ Other than bug fixes, the app has not had any significant updates since 2013.
Privacy and security
The app does not appear to collect any identifiable data but Veterans Affairs does collect anonymous usage data. Read more about things you can do to improve your safety and security when using apps.
Review details
Date of review: November 2018
Platform reviewed: Android
Version: 1.0.26
Download size: 42.31 MB
Updated on: 28/06/2018
Learn more
This app has been reviewed by other independent websites:
Concussion Coach app is a useful educational tool for patients, with some caveats(external link) iMedicalApps, 2017
Related topics
Consumer guide: how to choose a health app
Clinicians guide: how to choose a health app
Concussion apps
Concussion
Brain injury support
NZ Health App Library
App developer
If you are the developer and would like to provide updated information about this app, please email the app library manager at applibrary@healthify.org.nz.
Disclaimer: Healthify's app library is a free consumer service to help you decide whether a health app would be suitable for you. Our review process is independent. We have no relationship with the app developers or companies and no responsibility for the service they provide. This means that if you have an issue with one of the apps we have reviewed, you will need to contact the app developer or company directly.