Calorie counter by FatSecret
By FatSecret
Features


Calorie counter with food database
Weight tracking
Free recipes
Online social networking

Get the app:



Clinical review




Read a clinical review of this app.

Security and privacy
Does the app:


collect medical information? Yes
require a login? Yes
have password protection? Yes
have a privacy policy? Yes
require internet access? Yes

Read more

safety tips around health apps.
Cost
Free (option to upgrade to Premium with in-app purchase, which include meal plans, custom meals and water tracker)
What does the app do?
This app uses a food intake and physical activity log to help you manage your weight. The app also includes a body weight tracker and a variety of quick and easy recipes. For a more detailed description of the app, go to the app website(external link), Google Play (external link)or App store(external link) and, for a detailed review, see Reviews.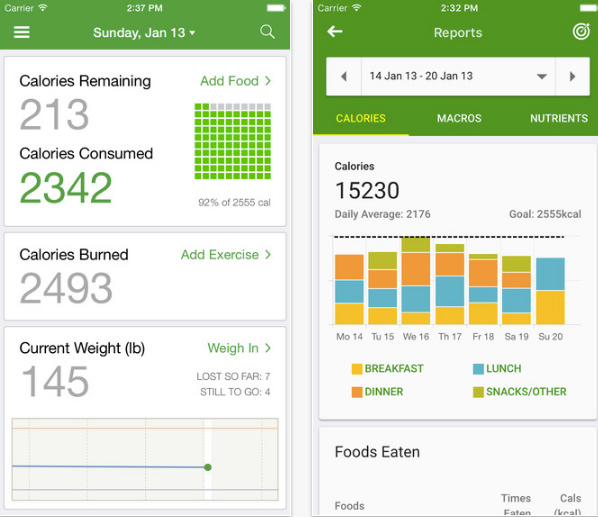 Pros

Cons

✔ The graphs clearly show the user's progress against goals.

✔ The database includes New Zealand foods, brands, restaurants and recipes.

✔ Connects to other devices to track movement.

✔ Customises to your goals.

✔ Provides a breakdown of macros and nutrients in your diary log.

✔ User friendly.

✘ There is no interpretation of nutrition quality or the amount of physical activity achieved.

✘ The app is not very intuitive, having lots of repetition, and could lead to user fatigue and boredom.

✘ You must upgrade to Premium to access meal plans.

✘ Requires time and dedication.

✘ No details provided of other more healthy food choices.

✘ Macronutrient and nutrient details likely need further interpretation and advice from a health professional.
Privacy and security
There is no privacy policy or data encryption, but this is not a major concern since the data is stored on your device or on your memory card. Read more about things you can do to improve your safety and security when using apps.
Review details
February 2021, Version 8.15, Apple
January 2021, Version 9.0.0.2, Android
June 2016, Version 4.4.0.0.4, Android
References
The following references relate to articles about apps for weight loss.
Related topics
Nutrition apps
Healthy eating
Food groups
NZ Health App Library
Consumer guide: how to choose a health app
Clinicians guide: how to choose a health app
Security and privacy of health apps
App developer: If you are the developer and would like to provide updated information about this app, please email the app library manager at
hello@healthify.nz
Disclaimer: Healthify's app library is a free consumer service to help you decide whether a health app would be suitable for you. Our review process is independent. We have no relationship with the app developers or companies and no responsibility for the service they provide. This means that if you have an issue with one of the apps we have reviewed, you will need to contact the app developer or company directly.